Ice Age Trail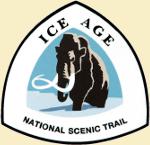 My Ice Age Trail Hike
I hiked the Ice Age Trail from August 3 to September 28, 2013.
I took 2,248,576 steps to travel about 1095 miles.
Journal Map Photos Gear Food Expenses Supporters Stats
My Gear
My pack weighed under
23 pounds
with food and water. Since the trail passed by many small towns, parks, and farms, there was never a need to carry many days of food and water was never an issue. This helped keep pack weight down.
Item
Oz
$$
Notes
G4 backpack
16
$40
made myself from pattern.
Comfortable, light, and plenty of room for all my gear. I used my new green version most of the trip.
Sleeping
shelter
30
silnylon tarp with internal bug nest from Bear Paw Wilderness Designs, including stakes, lines, and groundsheet.
This is a very nice shelter, but I switched back to my home-made shelter after a few weeks. I was a bit too long for the bug nest, being almost 6-2. Bear Paw has larger versions, but I didn't have time to get one ordered.
shelter
28
$75
silnylon shelter I made, including stakes, lines, and groundsheet. I treated it with silicone spray, added a bug screen edge and floor, and it worked just fine.
sleeping quilt
32
$80
I used this quilt I made myself from pattern. Same as my silver quilt for the AZT, but only 1 layer of insulation. It's 8 oz. lighter, but not as warm.
Exped Synmat 7 UL Pad
16.2
$155
comfortable, warm, light mattress for restful nights.
Exped Schnozzel Pumpbag
2.0
$25
Fills pad quickly with dry cold air instead of hot moist breath. Serves as inflatable pillow and storage in pack for night clothes.
Cooking
Snow Peak LiteMax stove
2.0
$45
This stove did great, but we didn't actually cook very often. Many more restaurant - bar - home meals than I expected along the way.
Giga Power fuel
7.0
$35
4oz. fuel and 3oz. canister.
cook kit
5.8
$25
includes spoon, pot, foil lid, stand, windscreen, and lighter.
food cozy
.8
insulates food package while the hot water is heating it up. Saves fuel and works super.
food
0-7lb.
Never carried more than 5 days of food.
Water
water filter
4.2
$51.70
Bought a new Sawyer Squeeze, so now I have an extra. Wound up filtering water ZERO times on this trip! Lots of faucets, drinking fountains, wells, bathrooms, restaurants along the way.
water bottles
1.2
two .6L throw-out bottles - cheap, easy, light.
water bag
.9
$8
1L Platypus roll-up, just for backup.
water
1-4lb.
water is plentiful, so no need to carry much. 2.2lb/L
Clothes
BSA wicking t-shirt
11.2
$20
light, synthetic - 2 shirts
arm warmers
3.8
$9
made from kneelength socks for chilly evenings and mornings, instead of long-sleeve shirt
bug suit
6.0
$28
Super protection from blood suckers. Very light, did not need bug spray, easy on and off, no slime on my skin.
This has been the best investment for this trip - lots of mosquitos but very few bites.
BSA zip-off pants
17.2
light and sturdy
BSA socks
5.7
3pr. hiking socks. Wore them out and had to buy more.
shoes
32.5
$45
New Balance 606 - from ebay.
underwear
4.2
2pr. Bought 4 more along the way.
BSA hat
3.5
baseball style
bandanna
1.0
Electronics
cellphone
4.3
for daily blogs and pics.
camera
7.7
$125
new Nikon with 18x zoom. I'm hoping for more wildlife pics. bought on ebay.
tracker
4.2
pings to satellite with my location.
Other
pedometer
.6
$25
track my steps, just for fun. Bummer, I lost this in a swamp partway through the trek and had to estimate steps after that.
umbrella
8.1
$35
used it on long, sunny roadwalks to keep cool.
rain poncho
3.4
$4
cheap disposable to cover me and pack from rain - taking 2.
maps
2
$35
IATA Atlas map set.
1st aid kit
2.3
basic personal items - bandaids, pain relief, tape, ...
pad repair kit
.4
compass
1.1
knife
1.1
tiny, single blade.
toothbrush
1.3
includes paste
ear plugs
0
50ft. core
1.5
hanging food to protect from animals
toilet kit
2.8
TP, Purell
headlamp
.5
$11
Awesome photon light, with spare batteries. One set of batteries lasts about 10 days.
Stick Pic
.4
self-pictures and videos
misc.
12
2 garbage bags, whistle, clippers, thermometer, extra batteries, and other small items
Total
16lbs
4lbs worn, not in pack
12lb pack weight
2 to 11lb food & water
14 to 23lb - total weight
My Food
My planned menu was supplemented with quite a few restaurant and home meals, so I got lots of variety:
Breakfast: 2 poptarts or granola bars. I'm rarely hungry before starting.
Lunch: peanut butter and honey mixed, on ritz crackers. I didn't get tired of it, but came close.
Snacks: Snickers, trail mix, sunflower kernels, peanut M&Ms, raisins. I could probably live on just Snickers for a month, but peanut M&Ms are awesome, too.
Dinner: Knorr noodles or rice, salmon or tuna or chicken pouch, olive oil. Lots of flavors and combinations are possible. I actually ate very few of these and did more non-cooking food.
Drink: mostly water, but diluted Gatorade occasionally. I also had chocolate protein powder mix and I really liked that.
Daily vitamin
My Expenses
travel to trailhead from home - $150 - drove home to take a week off during heat wave, so that cost a bit.
shuttling car during hike - $400 - much more than expected since we shuttled two cars for a few days and did shorter shuttles than I planned.
travel from trailend to home - $15
gear - $240 (camera, filter, shoes) - most of my gear from last year is fine.
maps - $35
food - $600 - restaurant food was more expensive, but made the hike more fun and interesting since I met more people.
lodging - $14 - stayed with friends, family, Scouting families, and open camping. Paid for 1 night in Kettle Moraine forest.
Total - $1500 - about $1.33/mile
---
Ice Age Trail Statistics
States
Wisconsin
Distance
Almost 1100 miles - much of the trail is not yet complete so there is quite a bit of roadwalking and alternate routes until land is acquired and set aside for the entire route.
I took about 2,250,000 steps from end to end.
Total Elevation
The total cumulative elevation climbed is undocumented at this time. The closest estimate based on DNR data from 1998 is 25,000 feet. It is most likely under 40,000 feet due to the flat terrain.
Terminus
East: Potawotami State Park, Sturgeon Bay
West: Interstate Park
Highest Point
Lookout Mountain, 1920ft
Lowest Point
Lake Michigan, 580ft
Map


Click for Large Map

Terrain
All of Wisconsin is fairly rolling landscape with no high elevations or long, steep climbs. Since much of the trail is incomplete at this time, flat roadwalking accounts for many miles of the trail.
The trail is marked with yellow blazes. Since it gets relatively light traffic in some sections, volunteer efforts are key in maintaining the trail corridor.
History
Founded in 1958 by Ray Zillmer. Established as a National Scenic Trail in 1980.
First thru-hiked by James Staudacher in 1979.
Challenges
Much of the trail has no camping allowed, being on private property. Connecting with local residents for permission to camp overnight is a key skill to learn.
Traffic while walking on roads over connecting routes can be dangerous.
The western sections cross public forests where bears, wolves, and other animals may be encountered.
Hunting season needs to be considered in the fall. There were a couple sections closed to hunting starting Sept. 1
Time Window
April through October. Spring has wet weather, summer has high humidity and mosquitos, late August through September are the best bet with late October bringing cold and hunting season.
Time to Hike
Typically takes 7 to 10 weeks. Speed record is 22 days set by Jason Dorgan in 2007.
Permits
There are no fees or permits required to hike the Ice Age Trail.
Thru-hiker Tally
The Ice Age Trail Alliance gives the name 1000 Miler to anyone who completes the entire trail, all at once or in sections. I am #81 on that list and unofficially the 22nd thru-hiker.



---




Trail Links

Google Earth
View Trail with google earth
Full Maps
IATA Interactive Map
Agencies
Ice Age Trail Alliance



Land Managers and Partners of the Ice Age Trail
---
All Comments:
Aug 06, 2014 - Justaguy
Do you really consider yourself a thru-hiker? Your GPS shows you skipped sections, included the yellow blazed Baraboo segment which is required to be considered a "1000 Miler"
---
Aug 07, 2014 - Hiking Dude
@Justaguy - I shared my hike info with the IATA and they consider me a "1000 Miler". I hiked from one end of the IAT to the other, so I do consider myself a thru-hiker. I'd love to hear where you got your information about the Baraboo segment. I've never heard that before. Care to share?
---
Aug 18, 2014 - Matt
@Justaguy - You don't have to do the western AND eastern bifurcations to be considered a "thru-hiker." @Hiking Dude did the eastern bifurcation, and IATA considers him to be a thru-hiker. Good enough.
---
Aug 18, 2014 - Matt
---
Aug 18, 2014 - K
www.iceagetrail.org/frequently-asked-questions If you were to hike the entire route of the Ice Age Trail, you would cover around 1,200 miles. Of that total, more than 600 miles would be official Ice Age Trail segments marked with yellow Ice Age Trail blazes. The majority of these miles conform to hikers' ideas of a traditional, off-road hiking experience. Some segments, however, lead hikers right down the main streets of charming Wisconsin communities. The remaining miles would be "connecting routes," typically quiet country roads lacking Ice Age Trail signage. While these miles are part of the current Ice Age Trail route, they are not technically recognized as official Ice Age Trail segments. One of the main goals of the Ice Age Trail Alliance is to convert connecting routes into permanent (generally off-road) segments of the Ice Age Trail
---
Aug 21, 2014 - Hiking Dude
@Matt and @Justaguy - A direct response from the Ice Age Trail Association about both sides of the bifurcation being required for the 1000-Miler status: "For the purposes of Thousand-Miler recognition, you may choose to do either; both are NOT required." Only 4 of the current 1000-Milers have done both sides of the route.
---
Sep 27, 2018 - Shawn Len
Just curious. How much training did you do for this? You are knocking out 30 miles a day. Ive been segment hiking it and just finished potawatomie to two rivers in 4 days and the connecting roads are brutal with the concrete. Can barely walk today. Have you run into similar problems from walking on the roads?
---
Sep 27, 2018 - Hiking Dude
@Shawn - We averaged about 24 miles/day and I don't recall our longest. My general training is to just walk about 5 or 6 miles every morning as much of the year as I can. By doing that for a couple months before a long hike, I feel that my feet and legs are ready to do 20 mile days on trail.
Since the IAT is so flat, that's all that was needed. For more mountainous trails, I change 3 or 4 days of that each week for at least a month to add an hour of hiking up and down the "hilliest" trail around to help prepare for climbs.
---
Sep 28, 2018 - Shawn Len
Thanks for your quick response. Sounds like i just need a longer build up time on concrete to adjust.
---
Oct 04, 2018 - Ron Edmunds
I'm reading Melanie "Valderi" McManus's book Thousand-Miler and she mentions part of your gear was an umbrella. I don't see it listed in your gear above. Or did I just overlook it?
---
Oct 04, 2018 - Hiking Dude
@Ron - That's a good book, isn't it? especially chapter 14. :-) I did take my silver umbrella and it was very helpful on the hot roads! I've added it to the gear list above - thanks.
---
---
Ask a Question
---


Find more Hiking Resources at www.HikingDude.com
Follow Me