Arizona Trail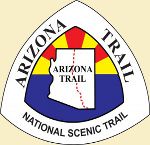 My Arizona Trail Hike
I hiked the Arizona Trail from March 17, 2012 to April 28, 2012.
I took 1,699,035 steps to travel about 800 miles.
Journal Photos Map Gear Food Expenses Supporters Stats
My Gear
My pack weighed
17 to 28 pounds
, depending on how many days of food and miles of water I carried. There was an additional 4lbs of clothes on my body.
Item
Oz
$$
Notes
G4 backpack
16
$40
made myself from pattern.
Worked much better than I ever hoped. Comfortable, light, and plenty of room for all my gear.
Sleeping
shelter
23
$75
made myself, includes plastic groundsheet and 8 stakes.
Great little shelter but did not get stress-tested by any bad weather. My next one will have a few changes, but the general design is just what I like.
sleeping quilt
40
$105
made myself from pattern, birthday present.
Too warm most of the time! Worked super.
Synmat 7 UL Pad
16.2
$155
Two baffles popped, making it uncomfortable but usable. It got no leaks the entire trip.
ExPed sent me a replacement when I got home!
Exped pillow
2.7
$20.50
xmas present.
I believe this really helped me sleep and was worth the extra bit of weight.
sleeping hat
1.5
$26
made myself, xmas present. Since I had a hood on my down coat, I didn't need this.
Cooking
alcohol stove
1.1
$10
messier than I had hoped. Used more fuel than expected. Did not carry for last 2 weeks - no cooking.
cook kit
5.8
$25
includes spoon, pot, foil lid, stand, windscreen, and lighter.
8oz bottle
.9
$3
food cozy
.8
$0
homemade.
No complaints, saved fuel and got food soft and hot.
food
0-9lb.
$0
I carried 6 days of food at the most.
fuel
7
$0
up to 7 oz. of alcohol, but usually less.
Water
pre-filter
1.2
$1
homemade
did not work. Still more work to do on it.
water filter
4.2
$51.70
Sawyer filter and raw water bag. Water bag got a few pinholes and delaminated at opening.
water bottles
1.8
$16
2 1L Platypus roll-ups.
no problems.
soda bottles
1.2
$0
2 .6L hard.
cheap, easy, light, no problems.
water
0-12.1lb.
5.5L on the longest stretch, 2.2lb/L
Clothes
down coat
21
$120
my big splurge. Used it every night as soon as the sun set.
long-sleeve shirt
9
wore every day and the shoulders have worn through from the pack straps.
gaiters
1.4
$19
Dirty Girl gaiters
BSA zip-off pants
17.2
wore every day.
liner socks
2.8
2pr.
BSA socks
3.8
2pr. ankle socks
shoes
28
$32
one pair wore out after 450 miles. Second pair doing fine.
underwear
4.2
2pr. wore them out
BSA hat
3.5
wore it every day with homemade sun shield.
bandanna
1.0
only used a couple times
BSA t-shirt
5.6
for in-town wear
BSA short pants
11.9
for in-town wear
long underwear
12.4
top & bottom
Electronics
cellphone
4.3
borrowed from friend. Worked super for blogging daily with pictures.
camera
5.4
old digital SONY
tracker
5.1
pings to satellite with my location. Batteries lasted about 10-14 days when on for 12 hours/day.
solar charger
7.3
Kept cellphone charged just fine. Stopped working in Grand Canyon and still broken.
Other
umbrella
8.1
$35
used about 8 days for desert sun. Worked wonderfully to keep cool.
pedometer
.6
$25
wore every day to track steps.
rain poncho
1.7
$2
cheap disposable. Used twice in snow.
maps
2
$25
up to 1 week of maps at a time. Used all the time to track location.
1st aid kit
2.3
used for blisters
pad repair kit
.4
used to patch water bottle
compass
1.1
only used 2 or 3 times.
knife
1.1
tiny, single blade.
toothbrush
1.3
includes paste
ear plugs
0
never used
50ft. core
1.5
used once to hang food
toilet kit
2.8
TP, Purell - had trowel at start, but left it.
trek poles
19.4
$30
inexpensive and wore out the tips. Should have lasted longer. Used to support shelter also.
headlamp
.5
$11
Awesome photon light. Batteries lasted about 12 hours, so I replaced each week.
Stick Pic
.4
self-pictures and videos
misc.
2.8
2 garbage bags, whistle, clippers, thermometer
Total
19lbs
4lbs were worn, not in pack
15lb pack weight
2 to 13lb food & water
17 to 28lb - total pack weight
My Food
My daily menu was:
Breakfast: 2 poptarts - 400 calories
Lunch: peanut butter and honey mixed, on ritz crackers - 650 calories
Snacks: Trail mix - 750, 2 candy bars - 560 calories
Dinner: Knorr noodles or rice, salmon or tuna or chicken pouch, 1 oz. olive oil - 700 calories
Drink: mostly water, gatorade - 100 calories
Daily vitamin
That is about 3100 calories/day. Every 3 to 6 days, I went through a town and got real food. I bought apples, oranges, bananas, sandwiches, salad, meat, pizza, milk shakes, and consumed around 6,000 calories those days.
For the last 10 days, I left my cook kit behind to lighten my load and only ate cold food, replacing the dinner with 2 Snickers bars. But, I had access to restaurants and fresh food often, too.
My Expenses
This is very close, but I expect there were a couple other expenses. The $$/mile is high because travel to/from the trail was expensive. A longer trail would have that base cost distributed over more miles.
travel - $565 - air MSP to Tucson $210, trailend to Phoenix $200, air Phoenix to MSP - $155
gear - $350 - I got lots of birthday and Christmas presents so had little expense for gear
maps - $25 - terrific mapset from simblissity.net covered the entire trail and profits go to the AZT Association.
food - $294 - groceries in towns and for the trail
restaurants - $170.68
lodging - $352.48 - Patagonia $89.74, Patagonia $89.74, Oracle $42.64, Mormon Lake $58.18, Jacob Lake $72.18. Stayed with friends and Scouting families about 8 nights.
Grand Canyon camping - $21 - $6 at Mather campground, $15 at Cottonwood camp
fun - $486.57 - thank you meals with host families, going out on the town zero days and after trek.
souvenirs - $29 - BSA patch set
shipping - $36.49 - bounce box and shoes
Total - $2350 - almost $3/mile.
$2.50/mile without gear costs since I can still use that.
$1.10/mile for food and lodging.
You Asked
Questions you asked about my hike. Got one? -
Ask It
---
Arizona Trail Statistics
States
Arizona
Distance
800 miles - trail reroutes happen so this is an estimate of the trail length.
Total Elevation
Terminus
South: Coronado Nat'l monument on Mexican border
North:Utah border
Highest Point
AZ Snow Bowl on San Francisco mountain, about 9270ft
Lowest Point
Gila river, 1700ft
Map


Click for Large Map

Terrain
desert with high daily temperatures and low night temperature. Travel through mountain ranges as well as many miles of fairly level plateaus. Many prickly, scratchy plants which can be hard on clothing. The trail is complete, but not well-traveled in spots.
History
designated in 2009 and completed in 2011.
Challenges
water sources are scarce, extreme temperature fluctuations from day to night, potential dangers from illegal alien traffic at southern end, rim-to-rim of Grand Canyon, common snow cover north of Grand Canyon
Time Window
February to May. Start too early and you'll be hampered by deep snow, too late and the desert will have no water. Most thru-hikers go March through April, northbound.
Time to Hike
Typically takes 40-50 days. Speed record set in 2011 is 21 days.
Permits
Saguaro National Park and Grand Canyon National Park require permits for camping. An optional AZT permit can be obtained to allow the thru-hiker to camp outside a 15-foot corridor along the trail through State Land Trust areas.
(I purchased this permit to support the AZT, but I have no idea why anyone would ever need it.)
Thru-hiker Tally
less than 100, no award or recognition for thru-hiking or section hiking



---




Trail Links

Google Earth
View Trail with google earth
Full Maps
Agencies
Arizona Trail Association



Land Managers of the Arizona Trail

Patches



---
All Comments:
Mar 29, 2014 - Glenn Beachy
This is really useful information. Thank you! I plan to start at the Utah border and do the first 100 miles this Sept with a couple old guys like myself. That would end at the South Rim of the Grand Canyon. If we can't get a campsite at Cottonwood or Bright Angel we will try to get our gear shuttled and do a rim to rim to finish the trip. That I have done before, South to North, about 11 hrs. They warn you not to but if you are in shape, plan accordingly and don't take too long rests it is not a killer hike. Lots of folks do it nearly every day in the hiking season. It looks like there is not much elevation change that first 80 miles. Any advice through that stretch? Did you go see "The Wave" rock formation near the end of your hike?
---
Apr 06, 2014 - Hiking Dude
@Glenn - When I reached the border, I was ready to be done so I didn't see the Wave or any other attractions. :-) As far as that last stretch (or first stretch for you), right out of the campground you have a 2-mile hike up switchbacks to gain 1000 feet elevation. If you could start early in the am, that would help you a lot. After that, it's 65 miles to gradually gain 3000 feet to the G.C. boundary across the Kaibab Plateau. There were lots of burned and logged areas, but also some pretty nice stretches.
---
Aug 17, 2015 - Zarem
Thinking about doing this trip next year around March/April time frame.
---
---
Ask a Question
---


Find more Hiking Resources at www.HikingDude.com
Follow Me