Hiking Dude Blog
Archives:
2020 -
Jan
2019
2018
2017
2016
2015
2014
2013
2012
2011
01/15/2020
Good Deed Fail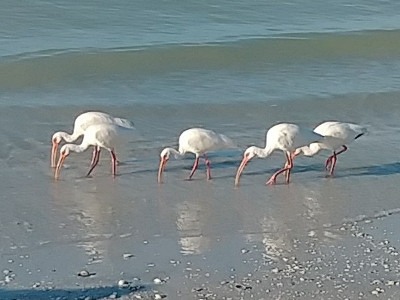 Sometimes best intentions don't turn out so well.
This morning, I hiked 7.5 miles around the island, including a nice, long walk up the beach at low tide. My plan was to keep an eye out for trash and pick up what I could find. To be prepared, I grabbed a plastic grocery bag and stuffed it in my pocket.
The hike was wonderful with water birds like these, some pelicans diving for fish, some big white fish doing big leaps with a couple fishermen trying to catch them, a couple joggers, lots of shell collectors, and hardly any trash at all.
I did manage to find an old rusty bottle cap and put it in my trash bag. Then, I stuffed the bag back in my pocket. When we reached the north end of the beach, there was a garbage can, so I figured I would deposit that one bit of litter.
When I reached in my pocket - no bag! I checked all my pockets - nothing. Somewhere along the beach, it had fallen out unnoticed.
With all the walkers on the beach, I'm very surprised someone didn't holler at me when it dropped. But, I'm sure someone picked it up. So, not only did I not find any trash to pick up (good thing), I actually made the place worse by unknowing dropping litter. Super Fail! Now, I have search harder for more trash to make up for today. Oh well!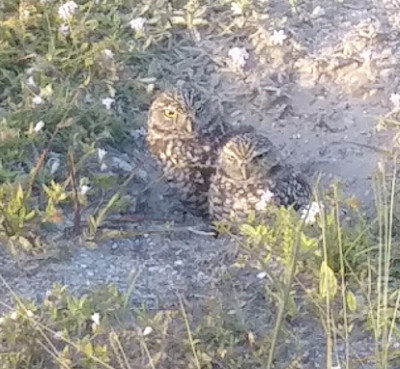 Other than that, today's hike was great. Saw these burrowing owls again today, as well as dozens of other kinds of birds, from little brown chirpers up to big osprey, with ducks, cormorans, and gulls thrown in.
We did get the start of a couple blisters since quite a bit of walking on sidewalks is required to reach any trails or sand.
You can track my
hike progress
to see my route.
Hike On
---
01/02/2020
2020 Hiking Resolutions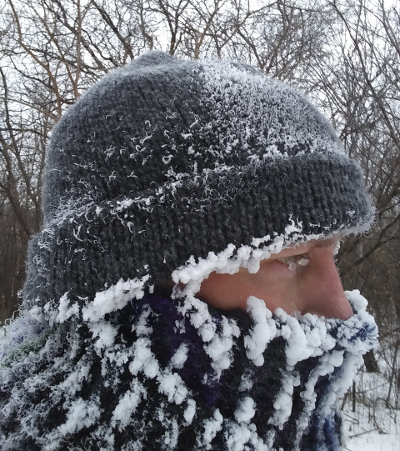 Whether you call them resolutions, goals, or dreams, it's good to occasionally plan what you would like to accomplish. Your plan can include short, mid, and long-term objectives - some big and some not so much.
In 2020, I hope to have a few adventures and produce something of value before the year is complete. I'll share my plan with you and hopefully have them all checked off in 12 months.

Do 6 Hiking Adventures - I don't have any very long treks this year, but will do these:

Florida Beaches - three days of hiking around Marco Island
Two Appalachian Trail Trips - in May and July, but not a thru-hike
Cloud Peak Wilderness - another week long backpacking trip in the mountains with some fishing and introducing newbies to backpacking
Kekekabic Trail - probably a yo-yo of this Minnesota wilderness trail, about 85 miles total
Border Route Trail - yo-yo hike of this other Minnesota wilderness trail, 120 miles

Walk 1500 Miles - I'll do 25-30 miles a week on local trails, plus these other trips should reach the goal.
Write 2 Hiking Books - I've started a book about the Superior Hiking Trail that I will finish, and I've been asked by a publisher to write a book about the Appalachian Trail.
Do 2 Trail Work Trips - volunteer trail maintenance to keep the trails accessible to other hikers. Trail work is a great way to learn a trail, get exercise, meet fun people, and give back.
Do 2 Hiking Presentations - Passing on knowledge and experiences to others is a good thing. Midwest Mountaineering puts on an Expo each spring and fall. I presented to about 100 people this past fall and hope to do it again.
In the next few posts, I'll tell you about a couple other exciting (to me anyway) things happening in my hiking world this year. It looks to be a fun, busy year ahead.
What about you? I'd love to hear about any hikes, treks, or adventures you plan to tackle this year...
Hike On!
---
Older Posts
Newer Posts
Site Disclosure Statement


Find more Hiking Resources at www.HikingDude.com