My Friend, Thelma Post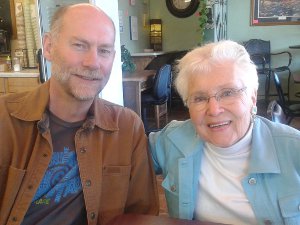 Building a National Scenic Trail takes much more than a handful of volunteers, but without a handful of dedicated, driven, selfless volunteers, none of our trails would have ever been established. There is often an individual with a dream who gets his/her name tied to a trail as the founder, such as Benton Mackaye, Clinton Clarke, Ron Strickland, or Ray Zillmer. Long after the first dream of a trail, definition of a route, and government designation, armies of volunteers actually build our National Scenic Trails. And, behind that army of workers, there are even more people supporting their labors. That is where this story takes place - armies of volunteers performing thousands of hours of physical labor require millions of calories.
This past weekend of hiking was highlighted by a short visit with a wonderful lady, in a tiny cafe, in a small town, in the state that is home to the Ice Age National Scenic Trail. Her name is Thelma Johnson from Cumberland, WI and she is one of that dedicated handful of volunteers that make things happen.
The Ice Age Trail Alliance plans a few 3- to 5-day Mobile Skills Crew projects each year, specifically aimed at educating trail volunteers in trail construction and maintenance skills through hard, dirty hands-on training. The typical 20 to 80 participants can then help lead smaller trail projects locally. As you can imagine, that many people working for that many days can consume a tremendous amount of food.
Thelma's niche role for the past 12 years has been feeding all these MSC participants three meals a day. That's roughly 200 meals a day, 1000 meals per project, and she's served well over 30,000 meals now. These meals are prepared outdoors, wherever the trail needs work, so Thelma is right out there in whatever weather comes along, making sure the volunteers have energy for the day.
At each project, Thelma has kitchen helpers she is responsible for organizing. Since they are often new volunteers needing direction, just like the newbie trail builders swinging axes, shovels, and macleods, Thelma puts in long hours of OJT, cooking, and clean-up. Long after the last meal is served, she'll still be cleaning in preparation for the next day. And, her day on the trail normally starts around 4:30am to have breakfast ready for her trail family.
Oh, did I mention that Thelma is over 80 years in age. That's right. That means she
started
volunteering with the IATA at about 70 years old. I was curious how someone
starts
something like this at that age. As it turns out, Thelma saw a notice in the paper from the IATA that a trail work project was being held near her home. Having nothing more pressing to do, she showed up, they gave her a rake, and she raked the trail route all day. She soon turned in the rake for an apron, and has been cooking up a storm ever since.
As the IATA's Mobile Skills Crew program has grown, more projects are held, more volunteers are involved, and more cooking is needed. Thelma still fills her Prius to the roof with gear and food and drives to the projects, but the IATA now has a very cool kitchen trailer that makes meal prep a bit more efficient.
This year, in recognition of her many hours, and years, of volunteer service, Thelma received the National Park Service Hartzog Enduring Service Award. She traveled to Washington, DC to receive her recognition in June, but I expect the high fives and thank yous back home on the trail in Wisconsin this past summer were even more important to her. She told me that it thrills her to know the trail volunteers love her and appreciate what she does for them.
At the National Park Service site, you can
view a video
about the 2014 Hartzog winners. The first 30 seconds feature Thelma!
I mentioned that Thelma started volunteering with the Ice Age Trail folks at about 70 years. Well, she does much more than just cook. At about 80 years, she has taken on a new, farther reaching project. Thelma traveled to Quatro, Manila in the Philippines recently and experienced the plight of some mothers struggling to survive. She has supplied them with sewing machines, training, and fabric so they can create and sell products to support their children. Now, Thelma visits them a few times each year to teach new sewing skills and get their wares to market. All of the money raised goes to the families since Thelma covers her own travel costs.
Please take a look at the aprons and items the Quatro Ladies create at
Quatro Ladies on etsy.com
- maybe you know a kitchen magician that could use a new apron?
Thelma is a joy to spend time with, and has a contagious, positive outlook that spawns smiles and hope around her. I can hardly wait to see what mischief she gets into at about 90 years. Thanks for all you do, Thelma!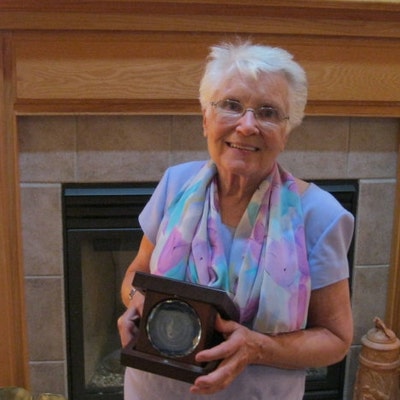 Posted: 20:50 10-19-2015 1218


Find more Hiking Resources at www.HikingDude.com
Follow Me