3 Days 3 Hikes Post
Fall is absolutely the best time to hike. Cool air, no bugs, no humidity, few people, wonderful colors, earthy smells, and dry trails - at least this weekend it was like that.
Mrs. Dude and I got out this weekend to tag three separate trails on three different days. We lucked into some perfect conditions and walked 18 miles of trail that was completely new to both of us.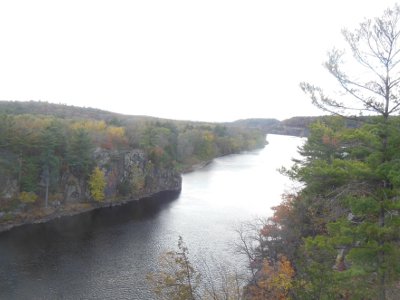 On our first day, we visited Interstate Park on the Minnesota side of the St. Croix River - there's also an Interstate Park on the Wisconsin side. Parking at the southern access point, the trail along the river heads north 1.25 miles to the town of Taylors Falls. It's a nice trail, but runs between the busy road and the river, so it's noisy.
On this beautiful fall day, about 1,000 other people had our same idea. The trail was crowded which means a few oblivious folks blocking the trail to take a photo, others scrambling through vegetation, and dogs - lots of dogs. Small, yippy dogs that had to be carried because some of the rocks were too high for them to jump up. I'll never figure that out.
The vast majority of people were courteous and friendly and it was a very nice hike. The river trail winds through many rock cliffs, cuts, and formations, and there are some informational signs explaining the geology. At the north end of the trail, a visitor center has a lot more information that I found very interesting, especially the basalt rocks ground perfectly round from the river.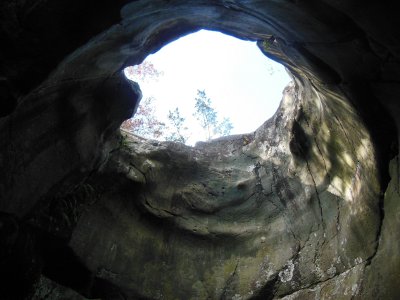 The St. Croix river was the low spot that gave way eons ago, allowing the glacial Lake Duluth to drain, leaving behind what is now Lake Superior. The raging water, filled with glacial silt, swirled in eddies and dug through the basalt bedrock around the Taylors Falls area, creating potholes. These aren't potholes as you'd find in a road. Some are big enough to walk through. This picture is looking up from inside Bake Oven Pothole.
Upon reaching the northern end, rather than heading back down the same trail (with our 1,000 friends), we made our way to the old railroad trail that parallels the river trail but on the other side of the road. This trail is higher up on the hill, and it was a very good decision!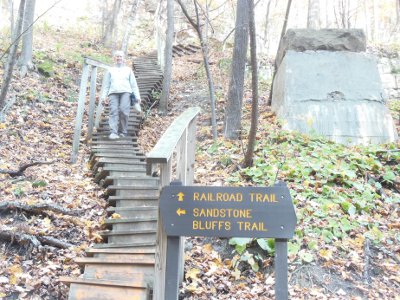 Walking south back to our car, the rail trail had very few people - we saw maybe a dozen. Much of the trail was through maple forest that had not yet lost its leafs. Whenever the wind blew, we were treated to a shower of rattling, golden foliage dropping to carpet the ground.
Where an old train tressle had been, we could see the footings and a staircase of 104 steps brought us to the bottom of a gully with the trail climbing back up the other side. But, at this point, there is a spur called the Sandstone Bluffs trail which adds 3/4 mile. Taking the spur was another very good decision.
Walking up the gully, filled with maple leafs on the ground and in the trees, felt like a walk through a golden cathedral. Viewing the sandstone bluffs, we got to see where new rock had been built upon the basalt bedrock and then carved away by the powerful, persistent work of water. Being higher on the hillside, there were also nice views across the river to Wisconsin.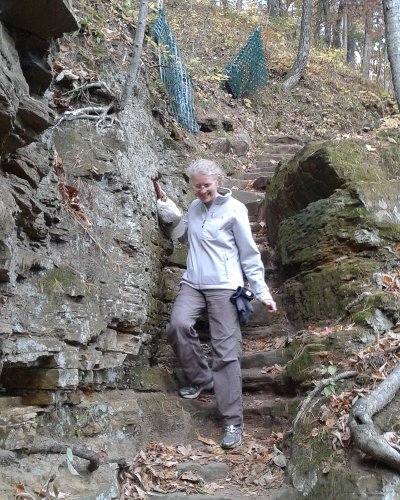 We really enjoyed the trail carved from rock, laid on the old rail bed, or built from wood - a lot of work goes into making and maintaining a trail like this that gets lots of traffic. I was very happy to see (or not see) no grafitti or scratchings in the soft sandstone.
The entire 3 mile hike was very nice.
---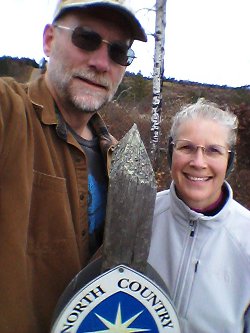 The next day, we headed up Highway 53 in Wisconsin on our way to Duluth. Cruising along, I noticed a sign stating the North Country trail crossed the road ahead. Well, naturally, we stopped. A small kiosk with maps in a simple parking area invited us to go exploring. I had helped make a portion of this trail hundreds of miles away in western Minnesota a few years ago. Now, the trail stretches 4,600 miles from North Dakota through New York.
I've heard much of the NCT is difficult to navigate because it gets such little use. This section has been very well maintained, blazed, and signed. The NCT uses blue blazes on trees, or when crossing prairie, on posts. We got to experience both forest and prairie, hiking west from the trailhead towards Leo Creek campsite.
There is a trail registry at Leo Creek campsite. A trail registry is just a protected, blank book for hikers to sign in and leave their mark. There were less than a dozen hiker notes in this particular registry for the entire year. I guess that supports the claim that not many get out here on this trail.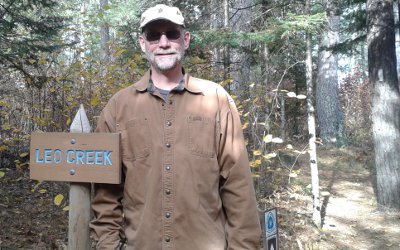 You might also notice the white blaze on the tree to the far right in this photo. White blazes indicate side trails on the NCT, such as to a campsite. It's important to know what colors are used on a trail, since white blazes mark the main path on the Appalachian Trail and blue means a side trail.
Being a long trail traversing the midwest, much of the NCT is relatively flat. This stretch had very little elevation, but gave up some nice views across bogs from low hills.
I was surprised at the lack of animals and birds, just a few red squirrels, today. That may have been due to the cool temperature and blustery wind. We were layered up and it was a comfortable day.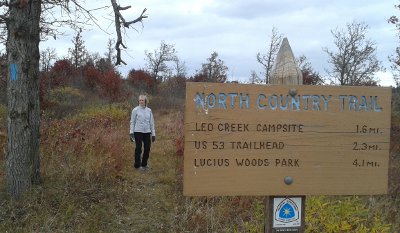 Having no destination, we just hiked. At about 2.5 miles, we decided to turn around. A dirt road crossing seemed as good a place as any to all the end point of our hike.
On this 50-mile section of trail, the map showed many camp sites and water was plentiful. I think I'll probably do a much longer hike on this trail soon, maybe North Dakota through Wisconsin would be a good distance.
---
In Duluth, we tackled our third and longest hike. The Superior Hiking trail follows the north shore of Lake Superior from Canada to the Wisconsin border south of Duluth. I hiked the northern 250 miles of it in 2012 because the southern 70 miles were not open yet. This was a chance to see what some of the trail is like.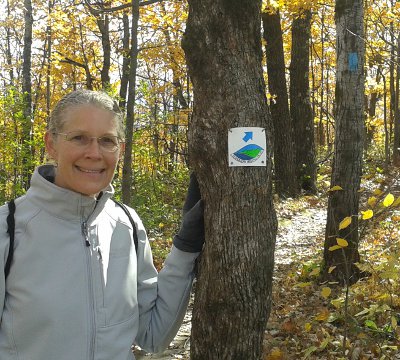 We parked the car at the Martin Road trailhead north of Duluth. Heading into the mostly bare birch, maple, and oak forest, I couldn't help but wish we had been here last weekend instead. The bare trees did give a more open feeling and let in more sunlight on this cool morning.
The SHT uses blue blazes, like the NCT, but there are also plastic tags with the SHT logo and a blue directional arrow. These are helpful in parks where many trail crisscross. On the city streets, signage is sometimes challenging to find - it may be a faded blue splash on an old telephone pole, or a tag screwed to a stop sign, or a plastic sticker stuck on the back of a road sign.
Most of the SHT is out in the wild, but this 10 mile section tries to hide itself in thin strips of woods and parks as it works its way down to the shore of Lake Superior. After a nice woods walk, the official trail does a roadwalk through a large cemetary, then a mixture of short road and trail stretches. I found it to be a lot of fun.
It was probably fun for me because I let Mrs. Dude lead the way for much of the day. The trail was very well marked and only one road intersection was missing signage - we resorted to looking at the map on a cellphone after continueing on in the most obvious (but incorrect) direction for 1/4 mile.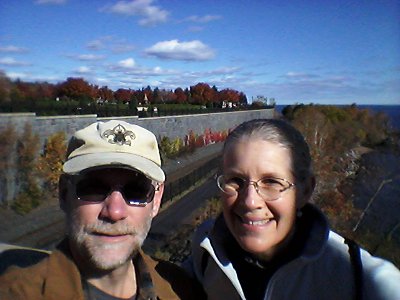 As I kept telling Mrs. Dude, today's trail is all downhill. We hiked from a high ridge down to the shore. The Lake Walk along Lake Superior takes hikers through the Rose Gardens, by a couple of micr-breweries and restaurants, and on to a hectic area called Canal Park. Being this was probably the last nice weekend, the place was a zoo! At least 1,000 people on the boardwalk, sidewalks, and grass.
It was a bad decision to ask our ride to pick us up here for the ride back to our car since the streets were gridlocked. Fortunately, we got ahold of him and met him on his way in, avoiding much of the hassle. It would have been better to stop at Fitger's Brewhouse - oh well.
Combining our three hikes, we covered about 18 miles and got to see a wide range of wonderful fall scenes and terrain left from the last glaciers.
Hike On
Posted: 13:37 10-21-2015 1219
---
All Comments:
Nov 04, 2015 - dan
Hiker Dude;

Great post on the three trails in three days.

If you're ever in Utah, suggest hiking the Bonneville Shoreline Trail. When completed, it will stretch from Idaho to just south of Provo,UT. Currently only sections are comleted and one is forced to road march to the next finished sections.

Cheers,


---
Dec 01, 2015 - Simon Byth
Hiker Dude,

Really enjoyed your post about the three trails in three days.

One day you might like to come to Australia and do a few of our hikes here. You'd probably enjoy our Great Ocean Walk in Victoria, which runs from Apollo Bay, down to the old lighthouse at Cape Otway, and then over to the Twelve Apostles: a total of about 100 km through a wide range of country side including tall forests and open coastal bushland.

No problems with bears and cougars over here.
---
---
Ask a Question
---


Find more Hiking Resources at www.HikingDude.com
Follow Me