A.T. Winner Post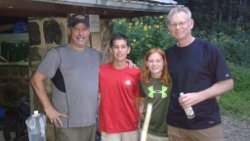 On my 300-mile section hike of the Appalachian Trail, I met many interesting folks and had some wonderful (and some challenging) times. Every day offered up at least one memorable moment, but my evening spent in the Gravel Springs hut in the Shenandoah National Park was certainly one of the favorite times on my trek.
Just before reaching the shelter, I met a National Park Service ranger (with a gun) that was investigating pilfering of Gensing in the park. He was an Eagle Scout, too. If you are interested in that story, check out my
A.T. Journal
for details.
When I walked up to Gravel Springs, there were already 4 people there. This usually means a crowded, often sleepless, night. But, these 4 were wonderful.
A Boy Scout and his dad, and a Girl Scout and her dad, from Maryland were out for a few days of backpacking. Right off the bat, they welcomed me, made room at the picnic table, and made me feel right at home.
They made some freeze-dried dinners for their meal and had too much to eat (or so they insisted), so they shared with me. They also made a campfire which was nice for drying out soggy clothing. And, I got to tell two of my favorite stories -
#1
and
#2
. The Girl Scout wanted to know if the second one was true, so that was a bonus. :-) But hey, this Girl Scout is awesome - she loves being outdoors, is self-sufficient, and will do great things in her life, I'm sure.
It was just a great evening, and one of those that I'll think about often.
I said I would send a Scout Shop gift card to some Scout or Scouter that I got to hike with on my A.T. trek, or at least met on the way. In my 300 miles, I met this Maryland scout, two other scouts, and 3 Scouters. Oh, and 3 Eagle Scouts that were backpacking as part of some Washington & Lee University outdoors program trips.
Anyway, this MD scout was chosen as the winner and I've sent him a $25 Scout Shop gift card. He's a young Star scout and has big plans for some high adventure trips over the next couple years, so I expect he'll have no problem spending it.
Hike On
Posted: 14:59 09-18-2015 1208
---
All Comments:
Sep 19, 2015 - bren
One of the great benefits to hiking: meeting people like this! Congrats to them. Love that the families are ensuring their children develop a love of nature and outdoors.
---
Sep 25, 2015 - Jay Porter
Paul - so glad to hear you a safe and sound. I am sorry you didnt reach your ultimate goal, but it also seems to me making smart, safety-first decisions. One more thing we learned from you. Thanks for the Gran Springs shoutout...and Owen can't wait to spend at the scout store...i am joining owen and his troop for a backpacking trip next weekend to Old Rag mountain in shenandoah..be safe and happy hiking!

Jay (blaze)
---
---
Ask a Question
---


Find more Hiking Resources at www.HikingDude.com
Follow Me