Hiking Into Spring Post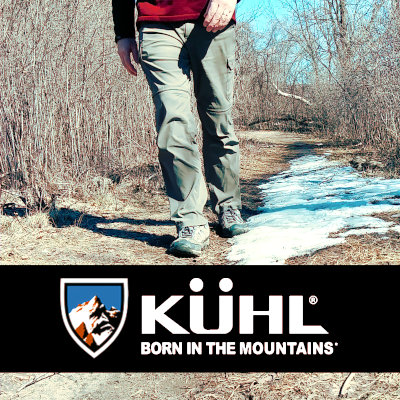 With most snow from Monday's storm off the trail, I got another morning hike in while testing out my cool KÜHL pants and pull-over. I've had the pull-over for a year and KÜHL sent me a pair of Renegade Cargo zip-off pants to destroy and review. For details of how they're holding up for the first two months, see my
KÜHL pants review
page. In a nutshell, they're sturdy, comfortable, and working as advertised. I've put on 150 miles and they're doing great.
From a March blizzard to extreme wildfire danger in 5 days - things change fast in March in Minnesota! If you're going for an early spring, or late winter, outing this weekend, please be extra vigilant with any campfire, stove, or other flame you use. Sun, wind, low humidity, and dead vegetation from winter create a prime mix for fire out there. The trails may be muddy, but the woods are dry.
Saturday is officially the first day of Spring, or the Vernal Equinox, which means the good ol' Sun is back in our court for the next six months - thanks for keeping it moving, Australia! The farther from the equator you are the bigger impact this whole summer/winter thing has on your world. When I hiked the Florida Trail in January, daylight was 90 minutes longer there than in Minnesota. But, by the end of June, Minnesota will have 2 hours more daylight than Florida!
Right now, all around the world, we're all just about even with 12 hours of daylight - so enjoy your day, wherever you are.
Hike On!
Posted: 9:12 03-19-2021 1550


Find more Hiking Resources at www.HikingDude.com
Follow Me