Down Blanket Post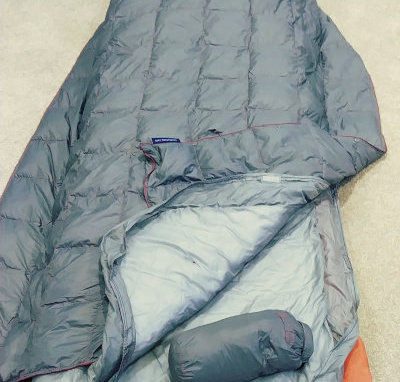 I enjoy making my own backpacking gear. I've sewn a couple packs, a shelter, a hat, and a couple quilts. I've also made a food cozy, water pre-filter, water bottle holders, and many other little things that just make long distance hiking more efficient and light.
My quilt (shown above) has served me well since I made it for my Arizona Trail thru-hike in 2012. I'm usually plenty warm in it, but there have been a few nights over the years when I would have appreciated a bit more loft to keep me warm. Since I'm lazy, I don't want to carry a thicker quilt all the time when it's not needed.
Thanks to Get Out Gear, I now have a 1 pound down puffy blanket that I can take with me only when needed for just that extra oomph of insulation. It's very similar to a down puffy jacket in weight and material, and I'm looking forward to trying it out in the Wyoming mountains this summer where I expect to have some below freezing nights.
You can check out my Blanket Review for details, or use hikingdude10 code to get one yourself, & save 10%, & get free shipping by clicking this:
Hike On!
Posted: 9:59 03-26-2021 1551


Find more Hiking Resources at www.HikingDude.com
Follow Me