Kuhl Renegade Cargo Convertible Pants Review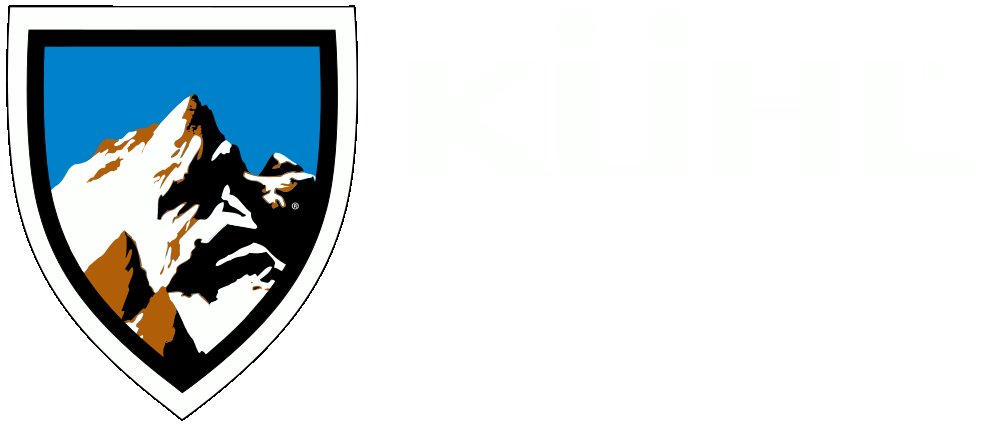 I've been trying out a pair of KÜHL Renegade Convertible Pants on all my morning hikes for the past two months. Over about 30 days of hiking, they've covered a total of around 150 miles. It's been too early to use them on any long wilderness treks yet, but I'm happy with them so far.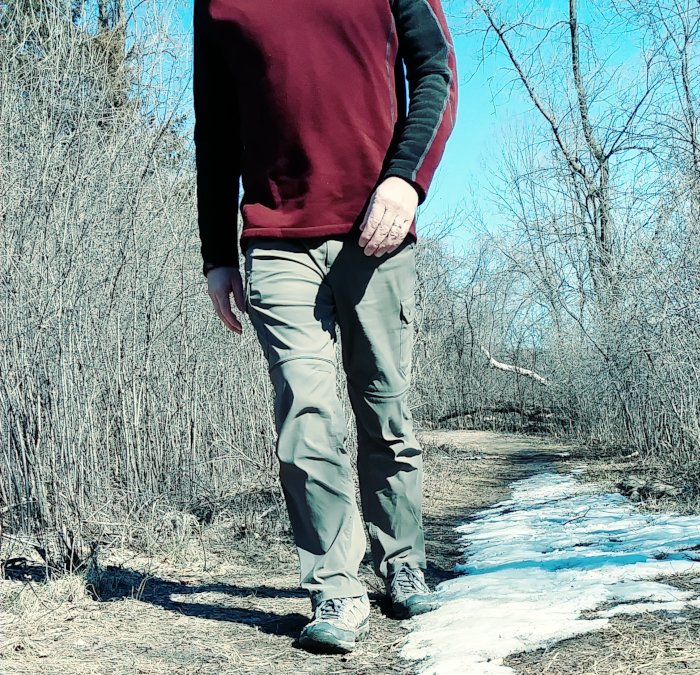 (KÜHL Renegade Cargo pants with KÜHL fleece pull-over)
---
What's Needed in Hiking Pants?
When hiking all day, for days on end, your pants need to keep up with you. You could make due with any old pair of pants, but for efficiency, comfort, and safety, a good pant should have:
good fit and style
quality workmanship
protection from brush, insects, sun, and temperature
light weight but durable material
---
Short Story:
They look good, feel comfortable, and work well for long hikes, especially if you're going offtrail or through brush. They aren't inexpensive.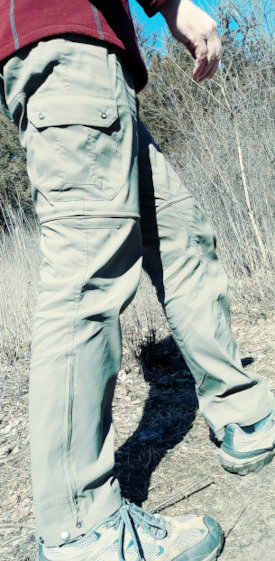 Full Story:
Things I like about the KÜHL Renegade Convertible Pants:
They look great! I love the natural color and the style. There are three colors to choose from: Khaki, Buckskin Khaki, Koal
The zip-offs - removable legs gives me more flexibility for temperature and protection. I can leave a pair of short pants at home and use these when it's hot or cold.
The fabric - I'll be using these pants on all my trail work outings this year. They are a bit tougher than my thin nylon pants. KÜHL calls the fabric "Duralux" and it's 95% nylon with 5% spandex. There is a little stretch to the fabric.
The stitching - I could find no weak spots, missed stitches, or errors. A few stray thread ends were simple to snip off.
The convertible zipper - It's very low profile and covered. It's almost invisible.
The ankle zipper - makes it easier to remove the leg over my shoes when converting, saving time and effort.
Mesh pockets - the two front pocket insides are mesh so they are lighter, both in weight and temperature since they give a little more ventilation.
Things I don't like:

The pricetag - since this is my primary dislike, you should know the product is pretty good. I think everything costs too much.
The convertible zipper - yes, I know I said I like it, but there is no easy way to tell which zip-off leg is left or right. An L and R on the zipper pulls, or color-coded pulls, would make it easier.
The waist snap - I prefer a button to a metal snap. It still holds fine after a couple months, but I'm concerned the snap will wear and not hold so well, as has happened on other snap closures I've had.
---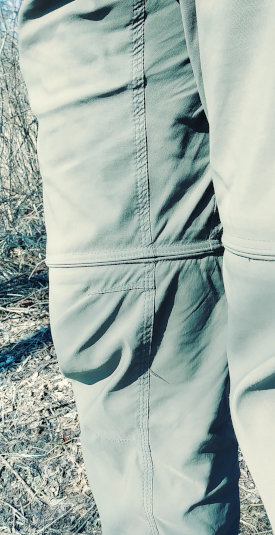 The Renegade Convertible Cargo style fills all my requirements for a long trek pant. It has more features than I need, like pockets inside pockets and a snap adjustment on each ankle, but I may find myself using those pockets.
The pants have a water resistant finish that rejects light rain but they are not water proof.
One interesting thing I ran into with these pants is that the sizing seems to run a bit large. I usually wear 34 inch long pants, but measuring the actual length of 6 different "34-inch inseam" pants that I have, I found these real lengths: 35.25 - KÜHL, 34.25, 33.75, 33.5, 33.25, 33.25
The waist also measured a bit larger than the label. So, consider checking out a size smaller than you normally wear. I dropped down to 32 and am happy with the size.
The fit of this Renegade style works great for me. There's plenty of room for hiking on flats, ups, and downs without a baggy, hanging cargo pant look. The waist is comfortable while carrying my pack.
About the KÜHL company
KÜHL KÜHL is based in Salt Lake City, Utah. I like their motto "Born in the Mountains". Even more, I like their efforts towards fair and safe supply chains, sustainable materials, and a circular economy which you can Read About. They also support many outdoors charitable organizations.
KÜHL sent me pants to try out and review. I received no other payment for this review.


Find more Hiking Resources at www.HikingDude.com
Follow Me