Once In a Lifetime Post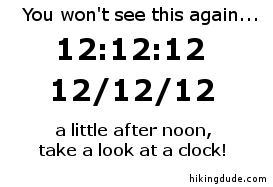 A thru-hike of the Appalachian Trail is refered to as a
once in a lifetime
trek. But, there are some folks that have done it many times, so that's a bit of a stretch. But, there are some things that
really
do occur once in a lifetime.
Tomorrow at a little after noon, there will be six 12s on your digital watch - that won't happen again for 1,000 years. As a matter of fact, the next time a similar event happens is about 100 years away, on 01:01:01 01/01/2101
So what? Well, tons of people are having weddings tomorrow and other special events. Other than that, not much will happen. But, it's pretty cool to notice that you were alive and kicking on this special date.
Great opportunity to go on a 12-mile hike!
Hike On
Posted: 16:28 12-11-2012 934


Find more Hiking Resources at www.HikingDude.com
Follow Me