VTH - Virtual Thru-Hike Post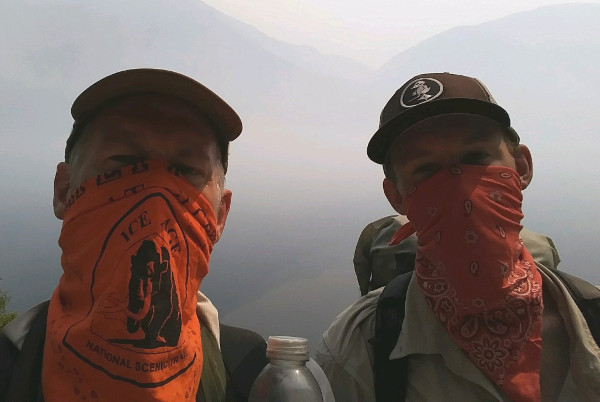 Did you plan on doing a long hike this year? Maybe a thru-hike of a long trail? Well, the Pacific Crest Trail Association, Appalachian Trail Conservancy, Continental Divide Trail Coalition, Ice Age Trail Alliance, Florida Trail Association, Arizona Trail, and probably every other long trail support group have cancelled all events, closed their offices, and recommend using local trails rather than doing thru-hikes. A bandanna over your face isn't really gonna cut it.
Hiking Anyway
Some folks are of the opinion that, being America and all, we've got the
right to hike
! Sure, being in the fresh outdoors is certainly healthier than being in a confined building day after day, and our country's long trails can still be hiked. But, besides the disregard to recommendations from the trail associations, and unconcern about spreading the virus, someone that makes the decision to do a long hike now will have extra challenges, such as:
Facilities closed in trail towns - restaurants, laundromats, stores, and other businesses will not provide the usual support
Hitch hiking - expect to walk that mile or three to town rather than getting an easy ride to town and back to trail
Trail Angels - don't expect any free food, free rooms and showers, shuttling, or any of the other free support often found
Hostels - closed down just like the hotels, motels, and BnBs
Medical Support - sickness or injury will be up to you to care for with small, local doctors overburdened with current patients. Search-n-Rescue will also be hindered so you're on your own to survive
Camping - local, state, and national park camping facilities being closed means stealth camping and locked bathrooms. Expect the same at private campgrounds, too.
Giving Up
Then there are those who have given up their plans for a thru-hike this year. Even in the best possible case of virus containment, there will not be enough hiking days available to complete the trail they had planned. Sadness and frustration abound in this group, but all is not lost!
Virtual Thru Hike
You can virtually hike your trail while staying safe and doing some good where you live. Here's how:
Get up at 5am.
Use gmap.pedometer.com to lay out a 10-mile route around your community.
Hike this route in 3 or 4 hours.
Get home by 9am for the rest of your day.
Repeat making new routes and hiking them for 1 month, or 10 months.
Feel free to take a bag along and pick up litter along the path.
Congrats! You completed your thru-hike!!! and it looks something like this...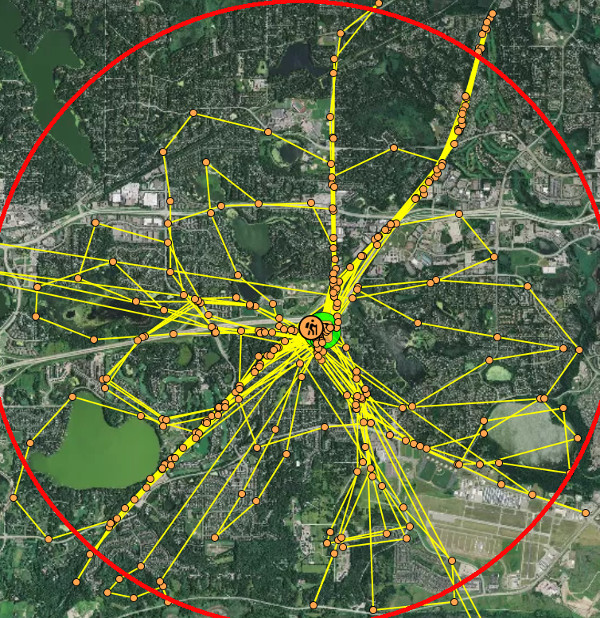 The image above is my Superior Hiking Trail VTH (virtual thru hike) I completed the past two months. The circle is about 6 miles in diameter. I hiked for 90 to 100 minutes 5 times a week for 10 weeks.
Now, I'm working on my Arizona Trail VTH which will be 800 miles. I hope to finish by the 4th of July.
I still hope to do some multi-day hikes this year, but they will only happen if official guidance approves of the activity. And, I plan on using these parameters:
No resupply - I'll carry all my food from the start so I don't need to interact with trail towns.
No communal shelters or hostels - I'll sleep in my own shelter away from any other people.
Emergency Support - I'll carry a SPOT Messenger to track my path and alert help in emergencies.
Real Wilderness - my treks will be on less-used trails at a less popular time of year where I'll likely encounter no one else.
Where will you be hiking this year? Did you change plans for a hike, or are you hiking your plan, or are you waiting to see how the virus situation evolves?
Hike On!
Posted: 7:25 03-23-2020 1502


Find more Hiking Resources at www.HikingDude.com
Follow Me