NorthSoles Review Post
New footwear include insoles to provide a little cushion and to pad your feet from seams and stitching in the shoe. Factory insoles are typically thin, low-quality pads that quickly deform and wear through, and are either glued in with a couple spots of adhesive or just slipped in after assembly. They provide very minimal benefits, and pretty much everyone recommends replacing them.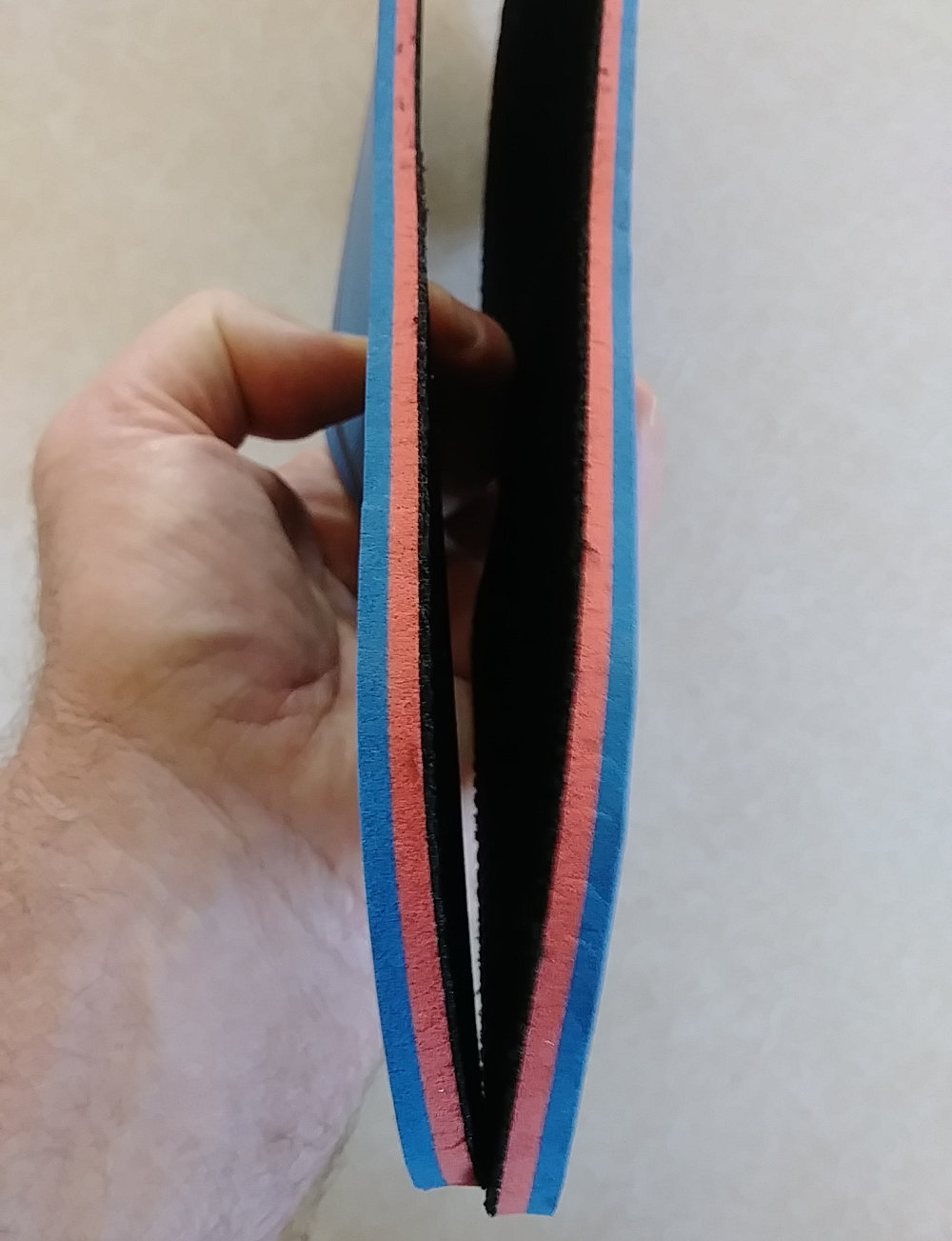 Pre-customized 6mm 3-color Northsole insoles
Always ready to experiment and learn about better, cheaper, lighter, or just plain different ways to do things, I got
NorthSole
to let me give their new insoles a try. My only compensation is receiving their Bundle Pack at no charge to test.
NorthSole is a Minnetonka, MN company so I'm really interested in seeing what a local company offers and see if it matches up to big, national brand products.
Features:
Aftermarket insoles range from $10 to over $100 and are marketed to perform a wide range tasks, from providing cushion to correcting foot problems.
These are NOT corrective inserts for any foot structural problems, arch support, plantar fasciitis, or supination/ovepronation challenges. These insoles are to provide comfort and a more enjoyable time on trail.
Northsoles are non-contoured so they provide benefits in minimalist no-drop shoes. This means they have no arch support or heel raise. This allows your foot to work they way it should rather than rely on external support. Some people need additional support, but I feel a medical or physical therapy professional should be consulted before modifying your foot support.
The insoles are made of three colorful layers. A black top layer gives your feet a bit of moisture wicking, grip, and softness. It is bound to a soft pink center layer that minimizes pressure points by forming to your foot. The bottom firm blue layer is mainly for shock reduction and durability. When you squeeze the northsoles, you can see the blue layer compresses much less than the pink.
Care:
Remove the Northsoles to air out and dry both the insole and shoe. Handwash occasionally to get rid of dirt and salt build-up.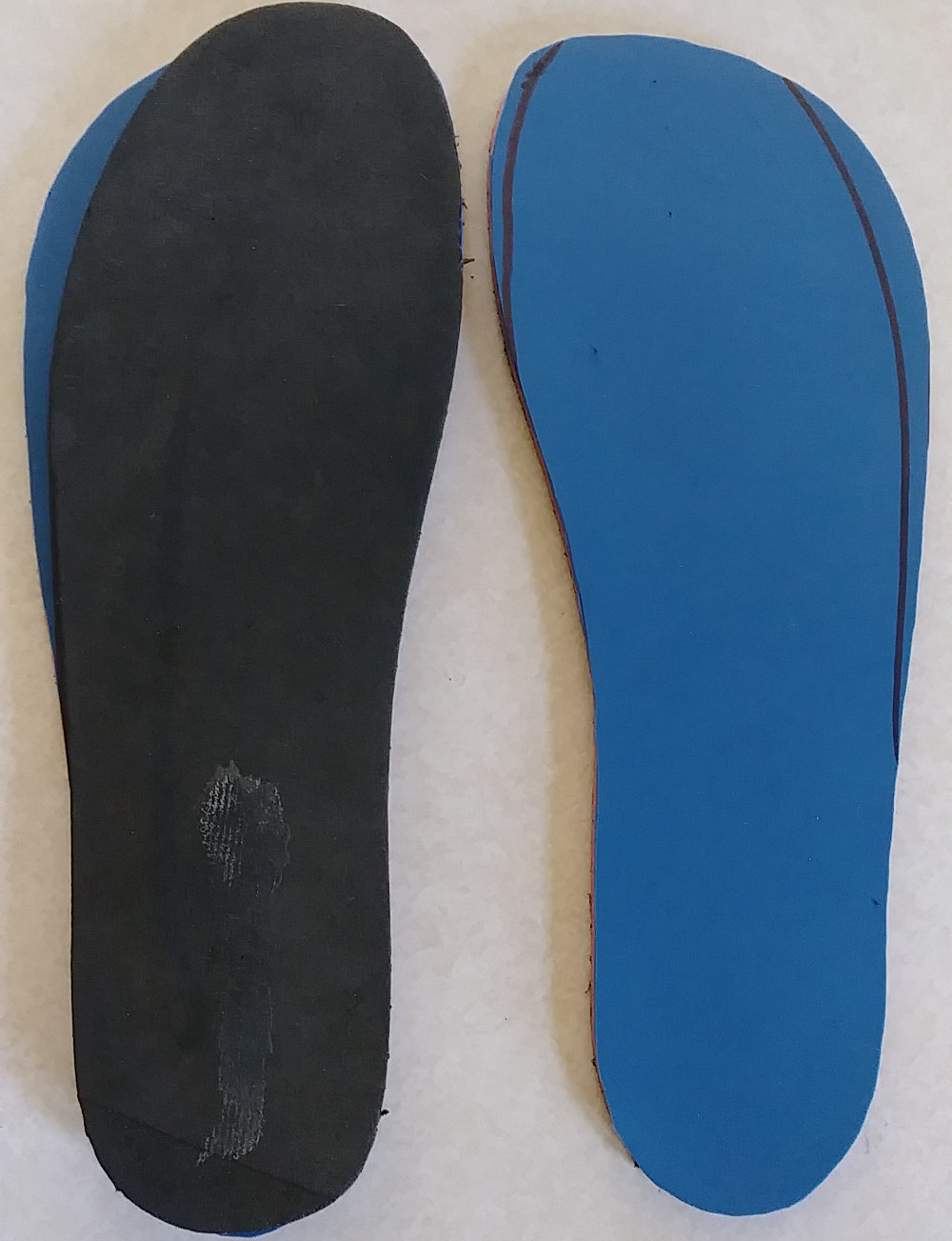 Old insole traced onto Northsole for cutting
My Experience:
I believe there is a trade off between cushioning and effort. Walking on the beach is an example.
Dry sand is very comfortable and absorbs any shock from stepping, but it takes much more effort to walk through than does wet sand. Wet sand is packed and firm. You can run on it easily but there is more jarring to your legs.
Insoles are similar. A thick cushion absorbs impact and requires more energy to walk. But, the extra comfort may be worth that loss in efficiency. Barefoot directly on the ground would be most efficient, but also too uncomfortable for most people to endure.
So, I like enough cushion to be comfortable, but thin enough to be efficient. Being able to feel the ground contour through my shoes is also a plus in my book - that's why I seldom wear thick-soled hiking boots.
I've now worn these Northsoles on my morning hikes and jogs for the past 3 weeks, more than 80 miles so far. They're a little dirty, but there's no visible wear so I expect they should last at least 500 miles.
For a bit more experimenting, I put my old factory insoles back in yesterday to see how they felt. After my 6 mile morning hike, some of my toes felt sore - not skin tender, but more like muscle sore. It was 31 degrees, so it could have been the cold. So, this morning with the temperature 28 degrees, I put the NorthSoles back in. After another 6 miles, my feet and toes felt fine. From that, I'll say the NorthSoles make my feet feel better.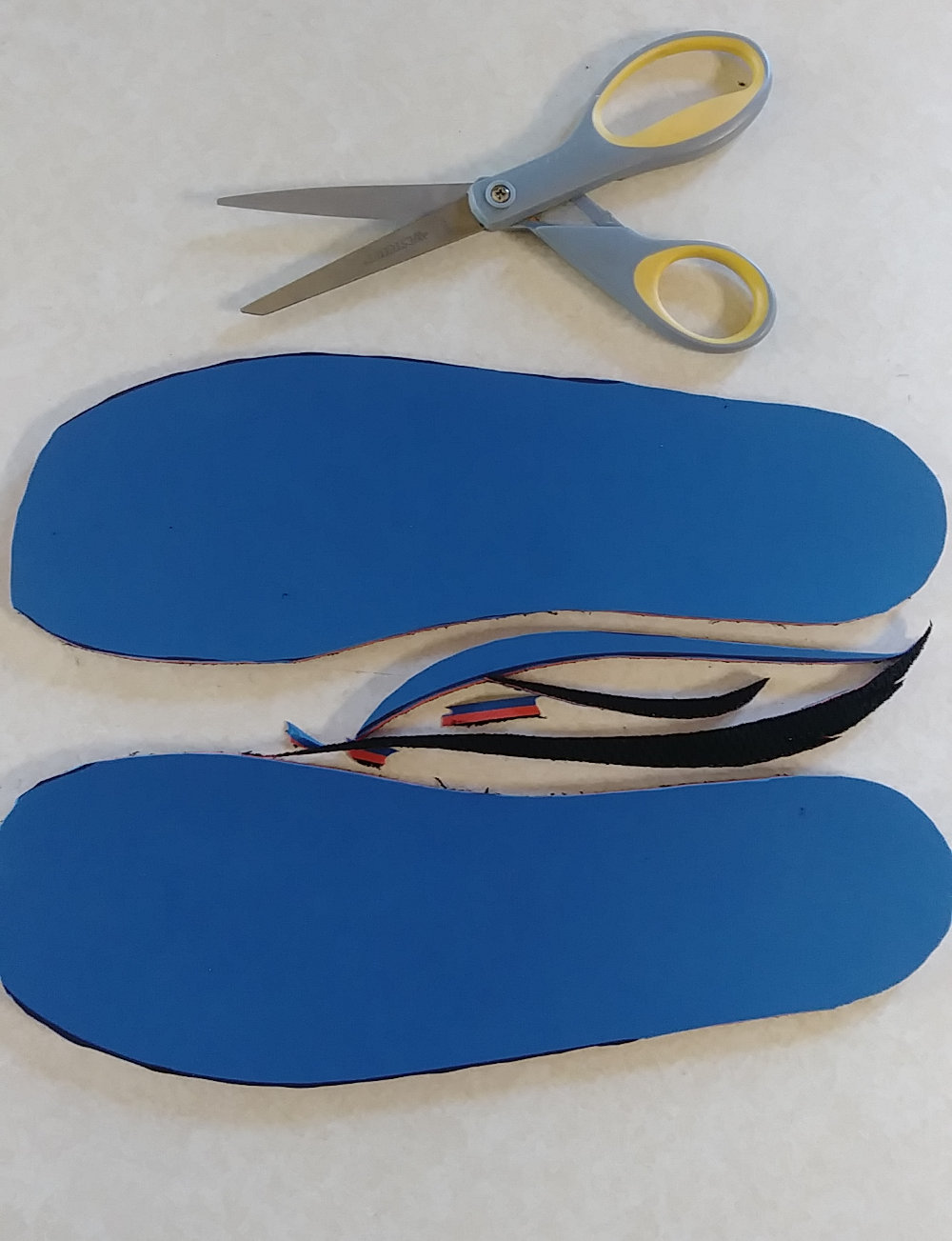 Customized Northsoles for correct fit
The NorthSoles were simple to start using. I slipped out the insoles from my shoes, traced their silhouette on the NorthSoles, cut them out, and slipped the NorthSoles into my shoes. Easy peasy. They fit fine and felt fine.
No complaints. But, they do cost $30 for a pair of 6mm, $25 for 3mm, or $50 for a 2-pack of the 6mm and 3mm. Prices include shipping in USA.
They come in S, M, L, and XL sizes that you trim to match your factory insole size. My size 13 factory insole just barely fit on their XL insole, so you might consider ordering a size up. But, when I let John at Northsole know, he said they'd be increasing the sizes a bit.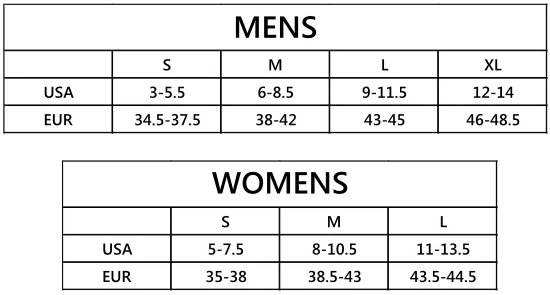 My factory insoles weighed 1.2 ounces for the pair (but they're junk). The 3mm NorthSoles weigh 2.0 ounces. The 6mm Northsoles weigh 3.3 ounces. I'm adding about 1 ounce per shoe by using the thicker pair. An ounce is less than 10% of most hiking shoes, but it's still extra weight. It's the old comfort vs. weight decision and, in this case, I think the comfort is definitely worth the weight.
Maybe they'd make a good stocking stuffer for someone you know - go to
NorthSole
to purchase direct from John in Minnesota.
Now, don't get me started about 'ankle support' from hiking boots over lightweight shoes - that's for another post.
Hike On!
Posted: 10:52 10-29-2019 1492


Find more Hiking Resources at www.HikingDude.com
Follow Me