West Coast Trail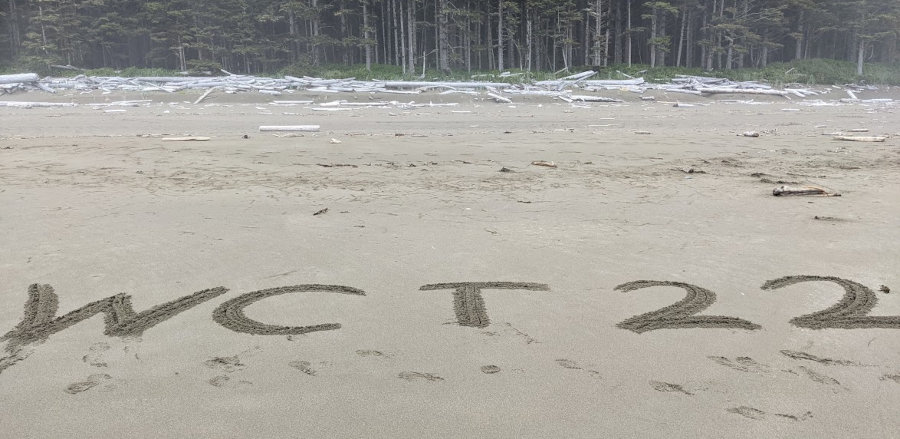 My West Coast Trail 2022 Hike
After hiking the
Pacific Northwest Trail
with me in 2017, my youngest son, Josh, got the idea to hike the West Coast Trail. Five years later, he planned out all the logistics for our group of five to complete the trail. Absolutely everything went off without a hitch, including planes, trains, automobiles, ferries, and buses just to get to the trail and back.
We hiked from the Gordon River in Port Renfrew, BC up the western coast of Vancouver Island to Bamfield. Our entire trip was from July 23 to July 31, 2022.
Journal
Map
Gear
Food
Expenses
Stats
My Gear
My pack weighs right around
27 pounds
with food for the week and a liter of water. The only new gear purchased was a cheap $12 set of lightweight pots to boil water for the five of us. I also made a silnylon 10x10 tarp which I carried, but used only once. Other than that, the gear is nearly identical to my
Kekekabic Gear
.
We used two tiny canister stoves and I did not bring my Spot Messenger, nor Ursack since all campsites have bear boxes that we used.
My Food
We tried something new. We bought a bunch of freeze-dried and dehydrated ingredients online from
Mother Earth Products
and put together our own meals. We bought a tiny vacuum sealer and special reusable bags, so each person's meal is in its separate bag. Each person can choose which of six meals they want to eat each night, depending on what sounds good. It worked out wonderfully. All we needed to do was boil about 7 cups of water, pour it into bags, set them in insulated cozies, and wait. Very easy, tasty, and fast.
Mother Earth Products was the best place I could find for ingredients, especially
Textured Vegetable Protein
since they had a wide selection of flavors. I was impressed with their products, prices, and service so I joined their affiliate program. If you use my
hike99
code, you can save 10% ordering from them.
Breakfast: 1 granola bar, 1 protein bar - 400 calories
Lunch: 2 Austin cracker packs - 400 calories
Snacks: Trail mix, Sour Patch Kids, sausage and crackers - 400-500 calories
Dinner: freeze-dried meal - about 700 calories
Drink: just water
Daily vitamin
We hiked an average of only 7 miles per day, so 2000 calories is enough for that much work, but I ended the trail with only 1 granola bar left.
My Expenses
All are in US dollars:
travel to trailhead and back - $755 - $331 round-trip MSP to SeaTac, $6 lightrail to car rental, $90 rent car for week, $42 Port Angeles/Victoria ferry, $115 WCT Shuttle bus, $171 airport parking
gear - $12 pots
permits - $186 - $18 Pacific Rim Park Group Pass, $168 WCT Reservation, Camping, Ferry fees
food - $405 - $74 trail food, plus $85 Victoria dinner, $136 Crabshack meal, $110 Victoria dinner for group
lodging - $88 Victoria Helms Inn hotel 2 nights
Total - $1446 ($331 was treating others, so $1115 for me)
---
West Coast Trail Statistics
Location
Southwest coast of Vancouver Island, British Columbia, Canada
Distance
about 50 miles - officially 75km, but everyone says it's longer.
Total Elevation
The total cumulative elevation climbed is estimated to be about 5,000 feet.
Terminus
South: Port Renfrew, BC
North: Bamfield, BC
Highest Point
700 feet at kilometer 71. There is a rusty old 55-gallon drum at the spot.
Lowest Point
0 feet at many points along the trail when walking the Pacific Ocean beach.
Map
Official WCT Map
Terrain
The trail follows the coast the entire way which means walking on the beach or higher up in the rainforest.
The "beach" has flat walking which can be packed sand, loose sand, gravel, stones, rocks, or boulders. There are also very steep climbs into the forest above the beach for some sections.
In the forest, the trail is extremely worn down in some places resulting in deep mud wallows, slippery trail tread, and exposed roots.
There are miles of boardwalks which are in various states of repair or rot. Dozens of bridges and ladders, plus a handful of cable cars over rivers, make up the extensive development of the trail.
The trail is extremely well used, making it very easy to navigate with no blazing necessary. You may notice an occasional sign, ribbon, or natural barricade to help direct your travel.
History
First constructed in 1907 to aid in rescue of shipwreck survivors along the coast, it became part of the Pacific Rim National Park Reserve in 1973.
The trail follows ancient paths used by first nation peoples, the Huu-ay-aht, Ditidaht, and Pacheedaht.
Somewhere around 7,000 people hike the trail in a typical year. Due to the increasing popularity, visitors are now limited by a permit system.
Challenges
The Pacific Northwest is notorious for grey, dreary, drizzly weather and cold sea fog is common even on sunny summer days. The average high temperature in summer is only 57F. Being prepared with wet weather gear is essential.
Black bear, cougar, and rodents can be encountered anywhere on the trail, with bears and mice being quite common.
The moisture from the ocean means every surface can be very slippery, whether it is rock, wood, or dirt.
Decaying ladders, bridges, boardwalks, and trail tread pose increased risk of injury from exposed nails, breaking boards, and poor footing.

Time Window
Trail reservations can only be made for May 1 through September 30. The trail is closed the rest of the year. July and August have the most promising weather.
Time to Hike
It typically takes 6 days to hike the trail, but 5 to 8 days is common. An experienced long distance hiker could complete it in 3 days. The general hiking community of this trail is more of a "backpacking" crowd than a "thru-hiking" crowd. Shorter miles, more time in camp, and enjoying the scenery are much more common than daily big miles.
Permits
Use of the trail is managed through an online reservation system by Parks Canada.
There are Trip Permit, Reservation fee, Daily Camping fee, and Ferry fees collected, totalling about $186USD. Hikers need to keep their permits with them on the trail.
This is easily the most expensive trail per mile that I've hiked.
Thru-hiker Tally
No list is kept since thousands complete this short trail every year.
---
Trail Links
First Nations of the West Coast Trail


Find more Hiking Resources at www.HikingDude.com
Follow Me