Pacific Northwest Trail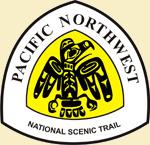 My Pacific Northwest Trail Hike
I hiked the Pacific Northwest Trail from the continental divide in Glacier National Park in Montana to Cape Alave on the Washington coast with my son from July 13, 2017 to September 16, 2017.
I wore a tiny pedometer the entire trip and figure I took about 2,587,370 steps to hike about 1111 miles.
Journal
Map
Gear
Food
Expenses
Supporters
Stats
My Gear
My pack weighs right around
17 pounds
without food and water. The most days of food I carried was 9 (ouch!). I mostly resupplied from stores in towns, but sent a food package to Ross Lake Resort.
The prices are only for costs of this trip. Almost all gear was still working well from previous treks, but some of it wore out this time, so see the
IAT Hike page
for costs.
Item
Oz
$$
Notes
G4 backpack
16
$0
made myself from pattern.
Comfortable, light, and plenty of room for all my gear. I used my green one and Josh used this grey one. After 5 seasons, they are finished so I'll make a new one this winter.
Sleeping
shelter
30
$0
We used my Bear Paw Wilderness Designs La Garita shelter with 2-person bug net includes stakes. It worked wonderfully.
sleeping quilt
40
$0
I made this quilt from a pattern for my AZT hike. We used both my lighter weight green version and this warmer one.
Exped Synmat 7 UL Pad
16
$0
comfortable, warm, light mattress for restful nights. Josh gets a simple blue cell foam pad. Baffles broke, so I switched to a simple blue cell foam pad in Idaho.
Exped Schnozzel Pumpbag
2.0
$0
Fills pad quickly with dry cold air instead of hot moist breath, and keeps me from getting dizzy! Serves as food bag at night and storage for clothes in pack during day.
Exped pillow
2.7
$0
xmas present.
Pretty comfortable and worth the extra bit of weight. Baffle broke in it after 7 years, so it's garbage now. I'm sure I'll get another.
Cooking
No cooking on this trip.
food
2-15 lbs.
$0
From 1 to 9 days of food.
Water
water filter
4.2
$0
Sawyer Squeeze filter continues to work wonderfully.
water bottles
1.2
$0
two .6L throw-out bottles - cheap, easy, light.
water
2-8lb.
water is plentiful most of the time, can carry up to 4L. 2.2lb/L
Clothes
Lutherhaven baseball hat
3.5
$1
with home-made sun cape to protect ears and neck.
wicking t-shirt
11.2
$0
light, synthetic. Same old one refuses to wear out!
long sleeve nylon shirt
12
$0
for sun protection.
BSA zip-off pants
17.2
light and sturdy
Darntough socks
2.9
I got these on the A.T. and they seemed very nice, but I didn't get to wear them long enough. They are warm, soft, and sturdy. These socks were awesome! Still waiting for them to wear out. Both pair wore through. I've returned them and am waiting for replacements. Bought cheap replacement socks.
underwear
4.2
3 pr.
shoes
32.5
$20
Ozark Trail from WalMart. Got them for practice hiking and they fit nice, so I'm going with them. They last about 400 miles before the soles wear through.
bandanna
2.0
$1
2 of them, too many uses to list here.
down jacket
16
$70
splurge item for this hike. Used it many times, and used for pillow on warm nights.
Electronics
cellphone
5.2
for daily blogs and pics. Upgraded to LG Stylo 3. This is my watch, alarm, phone, camera, gps.
tracker
4.2
pings to satellite with my location. Batteries lasted three weeks when on for 12 hours/day.
headlamp
.5
$0
Awesome photon light. One set of batteries lasts about 10 days.
batteries
9.0
$15
12 AAA lithiums for tracker, and 24 CR2016 coin batteries for headlamp - purchased online for pennies.
PNT Map App
0.0
$50
For help with water sources and location. These electronic maps are great tools and they weigh nothing. We switched to using HikerBot app and it was much more useful, and free.
Other
trek poles
14
$0
Using a new, lighter pair this hike that I got for Christmas. One pole broke for each of us.
pedometer
.6
$0
track my steps, just for fun. The great folks at GeoPalz gave me a replacement for the one I lost in the wilds of Wisconsin.
rain poncho
3.4
$4
cheap disposable to cover me and pack from rain - taking 2.
rain skirt
2.0
$1
Just a garbage bag cut open and cinched around waist.
guide
4
$30
PNT Guide.
maps
4
$50
PNT Guide.
bear spray
10
0
we each have one, it's like a lead weight!
food bag
9
$190
we each have an Ursack Major S29.3 AllWhite bag. Most expensive items this trip.
50ft. core
1.5
hanging food to protect from animals - (never used it)
1st aid kit
3
basic personal items - bandaids, pain relief, tape, liquid skin, CPR mask, gauze pads, allergy meds, ...
pad repair kit
.4
compass
1.1
knife
1.1
tiny, single blade.
toothbrush
1.3
includes paste
ear plugs
0
I'm taking a bunch, just in case.
toilet kit
2.8
TP, Purell
misc.
12
2 garbage bags, whistle, clippers, thermometer, and other small items
duct tape
1.5
Duct tape has many uses, but I'm taking bright orange for high visibility.
stickers
3
Taking some Hiking Dude stickers to hand out to folks I meet.
Total
~19 lbs
- 4lbs worn, not in pack
= ~15lb pack weight
+ ~4 to 15 lbs food & water
= ~19 to ~30 lb pack
~23 to 34 lbs - total weight
My Food
We're going cookless:
Breakfast: 2 poptarts, 2 granola bars - 750 calories. I'm rarely hungry before starting my morning hike.
Lunch: nutella or PBJ on tortillas, fig bars - 600 calories.
Snacks: Austin crackers, peanut M&Ms, trail mix, sunflower kernels, jerky, Lil Debbie desserts - 1000 calories
Dinner: protein powder after hiking and tuna or sausage on tortillas, Nutty Bar for dessert - 600 calories.
Drink: just water. lots and lots of water.
Daily vitamin
My Expenses
travel to trailhead from home - $150 - train to Glacier
travel from trailend to home - $150 - plane from Seattle
gear - $20 shoes, $25 shoes, $20 shoes
guide and maps - $85
food - $234 restaurants, $646 trail food
lodging - $28 Glacier NP, $90 Olympic NP, $25 Forks campground, $16 Lake Pierre campground
Total - $1489
---
Pacific Northwest Trail Statistics
States
Washington, Idaho, Montana
Distance
1200 miles - but fire detours and alternate routes change that a bit.
Total Elevation
The total cumulative elevation climbed estimated to be 200,000 feet.
Terminus
East: Glacier National Park, MT
West: Cape Alava, WA
Highest Point
Cathedral Pass, MT - 7600ft
Lowest Point
Pacific Ocean, Cape Alava, WA - 0ft
Map


Click for Large Map

Terrain
It's all downhill from the Continental Divide to the Pacific. :-)
The trail traverses high alpine mountains, coastal rain forests, and great pine forests over a route that receives light traffic in most sections.
The trail is not blazed like the AT or PCT and advanced navigation skills are required.
History
Conceived in 1970 by Ron Strickland.
Established as a National Scenic Trail in 2009.
First thru-hiked by 5 people in 1977.
Challenges
The Pacific Northwest is notorious for grey, dreary, drizzly weather. Possibly long stretches of rain, especially towards end of summer. Snow hazards early and late in season. Eastern half of trail can be brutally hot and dry in summer.
Navigation through unmarked wild lands, not just following white, blue, or yellow blazes day after day.
Grizzlies and wolves on eastern third of trail.

Time Window
June through November. Leaving too early heading west and the Montana snow will hamper progress. July and August are typically the best months for weather and bugs in the Northwest forests and on the Olympic peninsula.
Time to Hike
Typically takes 6 to 10 to weeks.
Permits
Glacier NP, North Cascades NP, and Olympics NP all require permits.
Thru-hiker Tally
Under 500.
---
Trail Links
Land Managers and Partners of the Pacific Northwest Trail
---
All Comments:
May 04, 2013 - Harly Drum
Good luck and have fun. I have my PNT journal from 2005 posted on my blog. www.nwhikingblog.com
---
Mar 19, 2016 - Reed
Land Managers and Partners of the Pacific Northwest Trail include the non-profit Pacific Northwest Trail Association - pnt.org
---
Jul 26, 2017 - Michael Wiig
If you get bored on the way back to the trail hit up Farragut State Park. It was home for the 1973 National Jamboree West Site. I was there. If you need any mosquitoes let me know there are plenty in Maine this summer. Have fun and keep safe.
---
Jul 27, 2017 - Hiking Dude
@Michael - one of the nice things about this trail is that the bugs have not been too bad. In Glacier, there were lots of mosquitos but since then it has been mostly biting flies - just not a ton of them. Our bug suits have been VERY valuable to have along, sometimes wearing them most of the day.
---
Nov 29, 2017 - marc raffa
Hello :)
I will hike the PNT next July, can you give me a price approximation for the different permits required? Did you order them online in advance or just bought them on the fly?

Thanks for your help,
Marc
---
Nov 29, 2017 - Hiking Dude
@marc - If you look above on this page, the Expenses are listed. Glacier was $28 and Olympics was $90. The $90 was two annual passes which was cheaper then paying for each night. We paid for the Glacier nights when we arrived and purchased the Olympic pass over the phone when we were around the Oak Harbor area.
---
---
Ask a Question
---


Find more Hiking Resources at www.HikingDude.com
Follow Me