Fall Colors Post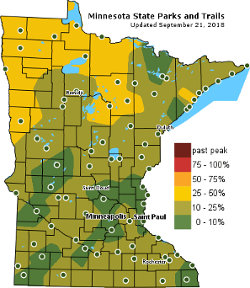 Do you know your Beta-Carotene, Anthocyanins, Flavonols, and Chlorophyll? Well, those big words are the basis for the eternally entertaining display of fall colors on deciduous trees. The tree in our front yard is a beautiful maple and always gives off a great display for the neighborhood. This is the
BEST
time to hike through the woods, enjoying the rainbow of colors, lower humidity, and lack of insects.
Mrs. Dude and I are looking forward to a few days of hiking and camping "up north" to take in the wonderful fall tree colors that usually grace Minnesota. It can be a gamble to plan just when the best time to go might be. The best colors fall within a 3 week window, but can be early or late depending on weather all summer, and especially on September weather.
With all the technology and historic data available these days, it is getting much easier to target the best dates for specific areas. For Minnesota, the DNR has a good
Fall Color Finder map
that gets updated daily. They have an image that shows typical peak color times, but do not predict the best times for
this year
.
I found a
Fall Foliage Prediction Map
that shows the entire country and the expected best times for color wherever you want to go. So, it looks like Oct. 6-8 will be peak color along the Minnesota north shore - Perfect!
Unfortunately, forecasts call for rain now - but it's still far away and I have my fingers crossed.
Hike On and enjoy your local colors!
Posted: 17:09 09-21-2018 1459


Find more Hiking Resources at www.HikingDude.com
Follow Me