SHT Tips 4 U Post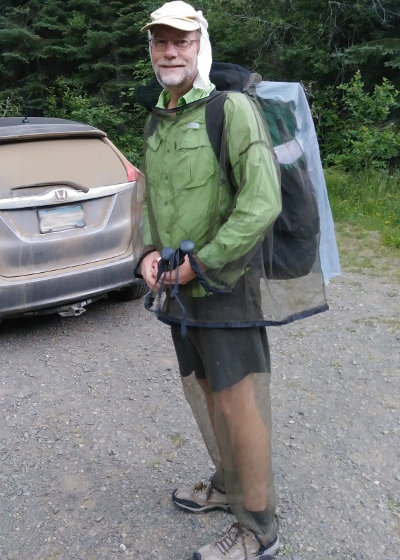 My recent Superior Hiking Trail hike was short in days, but long in miles. Along the way, I had some thoughts that I figured I should share. Some of them might just make your SHT experience a bit better.
Rest Up - It's a long drive to the northern terminus and an even longer drive back if you have someone dropping you off. A good way to get an early start after a good rest is to stay overnight in Grand Marais.

GM is a great little town with a nice waterfront to explore for an afternoon or evening. Many fun food spots to try and a new brewery, plus some tourist shops and plenty of activity around the harbor.

My wife drove me to my SHT SoBo start and we stayed at the Mangy Moose right in town. Danielle was a wonderful host, made us feel very welcome, and highlighted places to check out on a city map the motel provided. They have about 10 roooms, all with unigue decor - we stayed in the Bear Den. Nice and convenient lodging to prepare for a big day of hiking.

Wet Yer Whistle - 'I drank too much water' said no hiker ever! All of us, whether on trail or not, would benefit from drinking more water. On trail, not drinking enough water is a prime reason for loss of stamina and slower progress.

Fortunately, the SHT has water galore along its entire length. Sure, there are some ridges and hillsides that are dry, but many creeks and rivers are crossed with plenty of good water sources. Taking advantage of more water stops means you need to carry less water weight, are drinking more water, and have more opportunity to take short rests from hiking. Using your maps and guidebook will help ensure you carry enough water to the next source, but not pounds more than you really need.

Drinking inadequate water is one of my big failing points. I can hike a long way without water and I often do. While cruising along, by the time I realize I'm thirsty, I'm often dehydrated enough that my progress has suffered and I'm slowing down. Drinking a half liter makes a HUGE difference, and I gain momentum back quickly but only for a short time. I already have a deficit that will take time and concentrated rehydrating to overcome.

Drink more, more often - that's a good thing to remember.

Beware the Boards - Many hikers mention the tough tread of the SHT, usually listing rocks, roots, mud, and overgrowth. Surprisingly, with just a little rain, or even morning dew, the many boardwalks over perma-wet areas can be treacherous. I slipped three different times, all from my first step onto a boardwalk being at a bit of an angle and hitting my heel first, losing traction, and doing a slow-motion splits with my front leg just refusing to stop. It felt ridiculous and I bet it looked even sillier. Unfortunately, on one slip, I landed on a hiking pole and broke it. No injuries, though.

Step directly, flatly, and slowly onto boardwalks to ensure you have traction. I was just hiking too fast and not paying attention as I should.
Fashion Fun - No one really cares what your outfit looks like on trail. Function is much more important that fashion, but one comment I heard more than any other (by far) on this hike was about my bug suit. To be honest, people have been commenting about it for years, on the Ice Age Trail, last summer on the Pacific Northwest Trail, and recently on the SHT. The comment is nearly always the same - 'Wow! What cool pants!' or 'Hey, now that's smart!'

The mesh pants and mesh jacket do a great job of keeping mosquitoes at bay, but they also beat out repellents in other ways:

- Protect legs from scratchy, prickly, itchy plants
- Keep ticks from getting on me
- Protect face from spider webs
- Protect from those darn flies
- Go on and off as needed, no reapplying every few hours


It does add a small amount of warmth, especially if there's no breeeze, but it's much less than fabric and a good trade-off, I think.

Earn a Patch - The SHT is considered part of the North Country Trail and the NCT Association is running two free patch programs in 2018. If you hike at least 50 miles, you get a patch. If you hike at least 100 miles, you get the 50 and 100 mile patches. You can hike the same mile back and forth 50 times if you want. See NCT HIKE 100 to sign up and learn more.

I earned my 50 mile already and will get the 100 when my wife and I go on a short SHT trip in the fall.
Hike On!
Posted: 11:24 07-26-2018 1458
---
All Comments:
Aug 21, 2018 - Roshanthie Rajakula
Hi, I am a Sri Lankan and planning for a hike in the Central Hill area of Sri Lanka. I found your attire very attractive and wonder what type of material has been used to stitch it. And also with your experience could you explain few extreme conditions that you have experienced and how did you overcome those or may occur on a hike. Your response is highly appreciated.
Regards,
Roshanthie From Sri Lanka.
---
---
Ask a Question
---


Find more Hiking Resources at www.HikingDude.com
Follow Me