Lightning

When you're out hiking, you're at the mercy of nature for everything you didn't properly prepare for and for every little curveball thrown your way. Sudden storms, wild animals, rock slides, and flash floods are all examples of surprises that may pop up with little or no warning. You need to have a plan to deal with the most probable challenges and then good sense and skills to deal with anything else.
Thunder and lightning is one such surprise that you may experience. I love lightning! It is sooo cool to see the power of nature in such an intense instance of energy. Thunderheads in the far distance with bolts of lightning striking under them are an amazing site. Knowing when to enjoy the show and when to seek shelter is the difference between fun and misery.
Lightning Safety
There was a park ranger named Roy Sullivan who died in 1983. During his career, he was struck by lightning 7 times - that's in the Guinness Book of World Records. The amazing thing is that he survived all 7 strikes - he wound up killing himself by committing suicide with a gun.
There are actually very few people struck by lightning while hiking, and less than 50 people killed in the US each year by lightning. That number is on a steady decline over the past few decades. If you stay alert and play it safe, you'll be just fine. You have the responsibility to act appropriately when threatened by lightning - there will be no warning sirens or announcements out on the trail.
Keeping an eye and ear tuned to possible lightning is important. You can determine the threat of lightning:
Check weather reports before starting a hike. If storms are expected, be more vigilant. If nothing but blue skies are expected, relax a bit.
Understand the general weather patterns for the area and season. In mountains, storms typically form in the afternoon so plan an early morning hike with the ability to get off the mountain quickly after lunch.
Watch the horizon for cloud formation. Scan the horizon every 15 minutes or so and notice any clouds building.
Watch distant clouds for lightning. If a cloud looks ominous or you see flashes, have your escape or safety plan ready and make sure everyone in your group understands it.
Listen for thunder. Depending on wind, terrain, and distance, you may not hear thunder until lightning is already dangerously close. If you do hear thunder, you should be at or on your way to shelter.
Determine the distance of lightning. If you see a lightning flash, count the seconds until you hear thunder. Divide the number of seconds by 5 to approximate the distance in miles.
30/30 Rule
Count the seconds from the lightning flash until thunder is heard. If it is less than 30 seconds, you should already be in shelter. Lightning can strike 6 miles away from the thunderhead, and occasionally even farther. If it's less than 30 seconds and you are not at your shelter site, you need to take quick action.
Stay inside shelter until at least 30 minutes after hearing the last roll of thunder. This gives time for the storm to pass and minimizes your chance of being struck.
Avoiding Lightning Strikes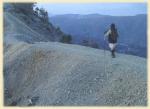 There is no completely safe place from lightning. Houses get hit, cars get hit, trees, animals, and people all get hit. Minimizing your strike probability is the name of the game.
If there is an enclosed building nearby with plumbing and/or electric outlets, that makes the best shelter and you should retreat there. Picnic shelters and other open structures do not offer protection from lightning.
If you are at the trailhead, get in your car, roll up all the windows, and don't touch anything metal.
Assuming you are on a hike away from buildings when a lightning storm catches up with you, use these lightning safety guidelines:
Do NOT seek shelter under a picnic shelter, lone tree, or other object to keep you dry. It will attract lightning. The rain won't kill you so its better to be wet and alive than dry and dead.
Come down from high places. Seek a valley or depression in the terrain. Be careful of entering a drywash that may channel a flashflood from the rainstorm.
Seek shelter in a low stand of trees. This will help keep you dry and not attract lightning.
If you are above treeline, seek shelter in the lowest area you can reach, preferably with large boulders around so you can get some protection from driving rain behind some smaller boulders.
Put on your raingear and remove your backpack.
If you have a metal frame pack, leave it 100 feet from where you are seeking shelter.
If you have a hiking stick or poles, leave them with your pack.
Your group should not huddle together. Instead, have each person find shelter about 100 feet apart. This minimizes the possibility of multiple casualties from a single strike.
Realistically, due to the situation being dark, wet, windy, cold, loud, and dangerous, allowing members of your group to shelter in buddy pairs will help reduce the level of stress and fear while increasing the possibility of multiple victims a bit.
If you are not able to get to any shelter, you need to become a small, round target and cross your fingers. Minimize your contact with the ground and minimize your height. Crouching down on the balls of your feet placed close together with your head tucked down is the recommended position. This position reduces your exposure and encourages any lightning strike to travel down your back and hopefully have less damage to vital organs. Lightning travels through the ground from the point of impact in random tendrils similar to tree roots. The smaller your footprint, the less chance there is of you being shocked from a nearby strike.
Cover your ears and close your eyes to protect from the intense noise and light of nearby strikes.
Lightning First Aid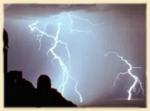 Lightning is an extreme electric shock and has similar first aid requirements for burns and stopped heart.
Immediately after a close strike, do a headcount of everyone in your party having them call back to you that they are ok. If someone does not respond, go to their location. Only allow those you need to gather. Keep everyone else spread out since there is still danger of additional strikes.
There is no electrical residue after a strike. It is safe to touch someone that has been struck.
If there are multiple victims, prioritize care needed. A victim that is not breathing is highest priority. There is a relatively good chance of reviving a lightning victim with CPR.
Check for and give first aid for burns. Check around jewelry, buckles, and fingers and toes especially.
Treat for shock, keeping the victim warm and calm.
Or, read more about:

Avoiding Sun Problems

Hiking Tips
---
All Comments:
Jul 05, 2012 - Charle
"its better to be wet and alive than dry and dead." Point taken.
---
Sep 10, 2012 - Jon
Thanks for the column on this safety issue. I like all the points here, except the first aid point on multiple victims, breathing, and CPR. It implicitly equates CPR to rescue breathing, which are very different things. My certs as a lifeguard are expired by some ten years. Back then, someone that was not breathing needed rescue breathing and someone with no heart beat needed CPR.
---
Sep 10, 2012 - Hiking Dude
Jon - Layperson Red Cross CPR certification does not teach rescue breathing only at this time. I'm not sure of the point you are making, but a lightning victim that is not breathing does not, or will not very soon, have a heart beat. And, the care for that person is to perform CPR.
---
Mar 21, 2014 - Gen
I really need this information. I was searching the blog about tips to avoid lightning strike. I like it. Thank you so much :)
---
Jun 02, 2014 - Austin
Hey dude, my names austin. I enjoyed this column. And love your extensive knowledge of the actual matter. I go hiking a lot, and i found a good way to keep away getting striked, reduce your conductive area. As you said, trees, tables, and ground. That's pretty great. A question my brother had was, what if you had, let's say several hiking poles, could you take them and put them a couple hundred feet from you to sorta give the lighting a more high priority strike location other than yourself. And, even though I am thirteen, another good thing to keep with you is aloe vera. And a jar of mayo. This two thinks have powerful healing ability, so if you, or one of your group members gets struck, these items can help a great deal. But anyways, love the column man, and can you answer my brothers question, if so, thanks dude.
---
Jun 02, 2014 - Hiking Dude
@Austin - If you assembled your makeshift lightning rod waaaaaaay before the lightning storm arrived, then it might attract lightning away from you. But, that isn't realistic - you'd probably be assembling it because lightning has been noticed and then you're way too late and should be seeking shelter instead. Aloe vera can be used on minor burns, such as sunburn, but not severe burns as expected from lightning. Mayonnaise is NOT something to be used for first aid of burns of any kind.
---
Nov 06, 2014 - sharna pugin
hi there Very interesting, i am printing out this page and emailing to all my fellow hikers. we will be doing Tsitsikamma hike (Cape Town SA) and i checked the weather, there is going to be a few thunder storms. My first time hiking in a thunder storm, excited and a bit nervous. God willing when i get back, i will update you on our adventure. Thank you again for this. PS! by the way the only page i found while googling thunderstorms with the info i was looking for.
---
Nov 06, 2014 - Hiking Dude
@sharna - Good luck with your adventure! I looked over a map of the trail and it looks like you'll be in open grassland most of the hike. There won't be any shelter in those places, so the best thing to do is find out what time of day the storms usually occur and try to be off the trail at that time.
---
Sep 08, 2015 - Lauren
Thank you so much for this information. My wife and I have been camping in terrible rain and flooding, and hiking in thunderstorms, but never knew how to properly protect ourselves. This article is very helpful for our upcoming camping/hiking trip in California. We will take all of these tips into consideration!
---
Aug 09, 2016 - Anton
The other day I hiked with my friend up on a glacier mountain, when we got caught in a thunder storm. We were 2400 meters over sea level (around 7000), and almost above rain level, as it only rained very lightly and purring down on ground level. It seemed like the lightings were in eye height, and that we were inside the clouds as you couldn't see further than around 10 meters ahead, at sometimes less.


We have discussed the danger of being what seemed to be inside a thunder cloude, compared to be beneath. Is it more dangerous? What should you do in a situation like that?

We seeked low and layer our gear a little off, but after some time it got worse, and we took the chance to seek shelter in a cabin lower down.

-Anton
---
Aug 09, 2016 - Hiking Dude
@Anton - On a mountain with no forest canopy is about the worst place to be. Being IN or BELOW the cloud level doesn't make much difference at that point.
I suppose the cabin was not grounded so being in it wasn't much protection from lightning, but you were safer from the cold and rain. Also, if it was at a lower elevation with a forest around then it would be safer.
I had two nights of very close lightning up in the mountains about a week ago. Even though our tent was in the best possible location, whenever you are outside you are vulnerable and it's tense.
---
Oct 07, 2016 - Esther
Thank you for such a useful blog. I wonder if you could answer this query.

I am about to do the Camino Ingles through Galicia, northern Spain in May 2017. Quite a lot of the walk will be through eucalyptus forests. There are no shelters when we're in the forests and we could be in there for several miles.

What do we do if the thunder comes and we're under the trees.

I might add that I'm a granny of three and my cousin who I'm travelling with has a pacemaker, so we won't be running very far in an emergency!
---
Oct 07, 2016 - Hiking Dude
@Esther - If you're in a forest, then stay there. If you've read the content of this page, then that is what you should do if you're outside during lightning.
---
Mar 06, 2017 - jeanna
Hi- I hike in Western NC and often there will be afternoon storms. My hikes are generally from 8-14 miles long (sometimes I carry my tent)- and covered by dense canopy. I was caught in two storms last summer where I wasn't able to get to the trail head in time. I pitched my tent in the valley, but I have read that being in a tent is an unwise decision. Can you give more insight in what a person should do in that situation? Leave the tent behind?
---
Mar 14, 2017 - Hiking Dude
@Jeanna - If you're in a small backpacking tent, then you are a smaller target than standing up outside. If you made camp in a protected area, such as a valley under a canopy of trees, then that's pretty much the best you can do.
Sitting, or crouching on your feet as in the picture above, in a tent makes you a smaller target than lying stretched out in your sleeping bag for lightning that hits the ground nearby.
---
Apr 18, 2017 - Black Bear
Love your article. Thanks for putting it together. I am hiking on the Appalachian Trail and frequently encounter thunderstorms. I wear a Garmin GPS SOS device. Does having that on increase my risk of attracting lightening? It emits a signal every 10 minutes.
---
Apr 18, 2017 - Hiking Dude
@Black - No, it doesn't.
---
Oct 14, 2017 - Greg
I'm aware of these guidelines. May 2017 - I was climbing the ridge in front of Mont Blanc and suddenly the clouds formed and it began. My biggest problem was that I was climbing alone. Surely above tree line.

So I descended as far as I could, but not much because you can't descend safely in conditions like that. I did put my pack aside with my poles. And stayed low just as in a picture. For some 10 minutes. It was so scary. You are sitting there and literally praying. I'm feeling it was like for several hours. The time doesn't pass, as the thunderstorm. Closing my eyes I still see the flashes. Some hitting the ground in less then a second.

Then I started to feel pain in legs. I couldn't sit in this position any more, so I went to the pack, pulled out sleeping pad and put it folded So I could sit on several layers of it. I was sitting there for something like an hour. But it feeled like infinity to me.

Being alone in that situation is the worst thing. Even I understood that the probability for lightening striking me is not high, the mental stress was so bad. I started to convince myself to do stuff just in order to do something because this makes you focus on something else rather than the storm. I pulled on wormer clothes, put my rain gear, recorded the coordinates, SMSed my wife about the situation and my location.

I'm still not sure what I've done wrong. I searched the web for reasons. Probably reading cloud pattern is a missing skill as well as plain luck.
---
May 15, 2019 - Keith
My friend and I were at least two miles from the trailhead in a low- lying meadow when we were caught in a thunderstorm. There was no absolutely no shelter and we never stopped hiking. I'd say were lucky to make it back safely. I appreciate the advice you gave about making yourself a low profile and separating yourself from any hiking poles, etc. In my case, I would move away from my heavy metal camera tripod ASAP.
---
May 15, 2019 - Keith
Once I was kayaking on the Great Salt Lake, heading back to the marina when a thunderstorm overtook me. I got to the shore ASAP, abandoned my boat, and sought shelter in my car. It's good advice to monitor the horizon continuously and take action as soon as you see a storm. They can move incredibly fast.
---
Jul 15, 2019 - Jessica
Great article! Thank you for all the tips. We went hiking at Yellow Branch Falls in SC yesterday and this is near an area that is notorious for sever weather but we figured the hike wouldn't be that bad and we could do it in time and beat any thunderstorms that would pop up. Well we were wrong. We were sitting at the falls and all of a sudden heard huge cracks of thunder above us so we left and got about half way down the trail and it started, literally, coming a flood. The lightning was so bad I couldn't hardly belive it was striking that close. We were in a dense forest with a high canopy and the wind was terrible also. We actually got stuck at one point because of rushing water and had to figure out a different way to get to our car. It was very scary and I'm just thankful that we didn't get hurt. Just got soaked and some bumps, blisters and bruises. But other than that we got home safely and I've never been so excited to have a hot bath lol.
---
Feb 13, 2021 - Cora Mahon
Very appreciative of you sharing this information - extremely informative and helpful knowledge for backcountry safety!
---
Mar 21, 2021 - Billy
I got caught in an intense lightning storm on the weekend in the jungle here in Malaysia (which apparently has the third most lightning strikes of any country). The lightning was right over our heads and really felt and sounded like a war zone ricocheting around the valley. I understand the advice not to be under a tree, but it felt safer to be under low- lying trees than on an open exposed path.
---
Jul 28, 2021 - Brandon K Lenssen
Forgive me if this is just a silly old wives tale- If you have a sleeping pad, would it be pertinent to kneel or crouch on that so as to reduce electrical conduction through the ground?
---
Aug 06, 2021 - Hiking Dude
@Brandon - The small extra non-conductive layer may not help much, but it would not make it any worse.  If you don't mind getting your pad wet and muddy, do it.
---
Aug 06, 2021 - Tortoise
I recently spent a couple weeks hiking solo on the Colorado Trail and can honestly say "thunderstorm stress" was a very real and daily event. Some days I found myself in the lightning position 3 or 4 times and hoping the trees I was sheltering near were shorter than their neighbors. Once I spent 45 minutes in that position as the storm was right on me - forget that deal about counting seconds as the lightning and thunder seem to happen simultaneously when you're in the thick of it. It's loud and bright! I have never been so terrified in all my life and I would imagine being in a storm as I was, would cause just about anyone to take up the pastime of praying!

I have read in a couple other places about making sure your ankles touch when in the lightning position. It is believed that if a ground current strikes you it might exit once it gets to your ankles rather than going through your whole body - I'll be adding that to my lightning defense toolkit as I return to do more of the trail in a few days.
---
Oct 07, 2021 - Lisa
Is it safe to assume that carbon fiber hiking poles are less "attractive" than aluminum in a potential lightning situation? Also, safer or more dangerous at the base of a cliff, or under a rock over hang? Is there data to be found on the circumstances surrounding lightning strikes on humans? Thanks!
---
Oct 13, 2021 - Hiking Dude
@Lisa - Your hiking poles don't appreciably raise your chances of being struck by lightning. Neither overhang nor cliff base is a good spot - they both have higher outcropping above you that would be more attractive to lightning than the lower ground around you. There is a lot of data about lightning strikes on humans - see Google for thousands of references.
---
---
Ask a Question
---


Find more Hiking Resources at www.HikingDude.com
Follow Me