Hiking Food Needs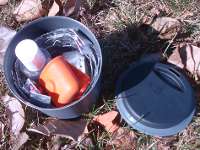 Cooking Options
A day hike requires no cooking since you can return home or to base camp at the end of the day and cook whatever you like. Taking some basic
day hike food
along is all you need.
On a multi-day hike, you most likely will want some hot food and drink and that means cooking, or at least heating, your meals. Depending on what you like, there are a few options for preparing your trek food, each of which have their good and bad points.
Real Cooking - ingredients are heated by baking, roasting, stewing, or frying. This takes a lot of fuel, time, and equipment.
It's a great way to prepare base camp meals, but the equipment needed would weigh down a hiker.
Cold Meals - to save carrying the weight of fuel, stove, and lighter, some folks prefer cold, no-cook food. It's fast to prepare - just tear open the package. For weekend hikes, this can work very well. For longer treks, not many people enjoy eating salami and peanut butter every day. It's possible to rehydrate some foods enough to be edible using cold water and many hours.
Rehydration - water is boiled and added to dehydrated food, providing hot food with very little time or mess. This requires heating water to around 200F.
This is a quick and easy way to prepare a hot meal and is the most common form of backpack cooking. The extra weight of stove and fuel are worth it for the comfort of the warm meals. Since the only cooking being done is heating water, there is virtually no clean up. There are many different kinds of stoves available that work well for rehydrating food.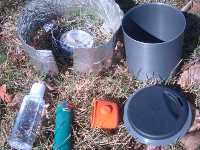 Your Kitchen
If you join the majority and decide that no-cook cooking is too cold, real cooking is too cumbersome, and rehydration is just right, then you'll need to pull your kitchen gear together. Fortunately, there's not much to it:
Stove - For a detailed discussion of different stove types, see this Stove Comparison on CampfireDude.com
Fuel - depending on the kind of stove you choose, this will be wood, alcohol, gas, canister, or fuel cubes
Lighter - Matches are susceptible to water, wind, and running out. A small bic lighter is easier, cleaner, lasts a long time, and replacements are easy to find at trail towns.
Spoon - a long-handled spoon is all you'll need for preparing and eating your meals. The next section will explain why. Buy a Dairy Queen Blizzard and keep the spoon.
Cozy - keeping the heat from the water in your food instead of drifting off into the air is critical. You could add the food to the water in your pot, but then you need to wash it. Instead, save the hassle and pour the water into your food wrapped in a cozy.
Rehydration 101
Thousands of hikers before you have nearly perfected the art of rehydration cooking. There are two main ways in which food is prepared: FBC (Freezer Bag Cooking) and 1PM (One Pot Meals).
Both methods have you put a small pot containing just enough water for the meal on your stove. It will take 3 to 8 minutes to reach a boil, depending on your stove.
When making a one pot meal, your next step is to add all ingredients to the pot and stir.
Cover with a lid, reduce or remove the flame, and wait 10 minutes or so for the food to rehydrate.
Either eat right out of the pot or serve into individual bowls.
Clean up consists of your eating utensils, bowls, and pot because they all had food in them. Your clean up may be simply licking them clean or heating more water to wash thoroughly.
When doing freezer bag cooking, your next step is to stir your spoon in the boiling water to sterilize it.
Then, place your bag containing food inside an insulating cozy and pour water into the bag.
Stir, seal, close the cozy, and wait 10 minutes or so.
Eat your meal right out of the bag.
Clean up consists of licking your spoon.
Guess which method I prefer? :-)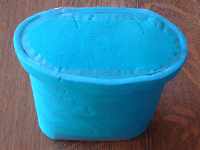 My Cozy
You can purchase a food cozy many places online, or make your own. Reflectix is a material used to make sun screens for car windshields and is often used for food cozies. I used an old blue foam pad to make mine.
View Food Cozy Instructions
.
Ask Me
about Preparing Hiking Food!
Or, read more about:

Hiking Skills

Hiking Safety
---
All Comments:
Jul 28, 2014 - Connie Wong
I am planning a 2 night trip to Yosemite, 8500 ft. Friday night and Sat night. Sat meal: Cold breakfast Trail lunch Soup dinner: lake water, dry seasoning, dehydrated veg, dry noodle, frozen vacuumed chicken. I am concern about the chicken. Plan to buy Costco cooked chicken, shred it, vacuum seal, and freeze it. Will take out of freezer on Friday at noon so it should be defrosted by Friday midnight. Room temp for 16 hours then boil in water is safe? Hubby say beef is safer but I want ckn noodle soup.
---
May 28, 2015 - Daniel
Personally, I stay away from chicken while hiking. It may spoil quicker than other options. Drying some mincemeat or making some beef jerky is my default option for meat.
---
May 28, 2015 - Hiking Dude
@Connie - If I was doing that, I would take the chicken out of the freezer just before leaving and wrap it in my clothes in my pack for extra insulation. I think it would easily thaw before you cook your meal. For the extra weight of 1 tin can, I would use canned cooked chicken from Costco. Then, there would be no concerns and it would save quite a bit of effort. Or, to save that weight, you can get cooked chicken in flexible pouches from many grocery stores instead - costs a bit more, but easier and lighter.
---
Jun 02, 2017 - josh
if your not concerned about BPA leaking into your food feel free to use freezer bags. also just be sure the bags don't get punctured as well. i much rather empty food into pot, eat out of pot, clean pot than risk bag gets hole in it and i don't know about it till i pour boiling hot water in it along with i think it's easier to eat out of a hard wall container then a soft moving one. your only cleaning 1 extra item using a pot vs bag if you eat out of the pot....
---
Jun 02, 2017 - josh
@Connie - you can also dehydrate meat or buy freeze dried or already dehydrated meat as well. I've done this and it works out just fine.
---
Mar 24, 2021 - William
I know I am way late to the conversation, but I usually buy the prepacked pouches of Chicken or Tuna from Starkist or Chicken of the Sea.
---
---
Ask a Question
---


Find more Hiking Resources at www.HikingDude.com
Follow Me