What I Really Do - AZ Trail Post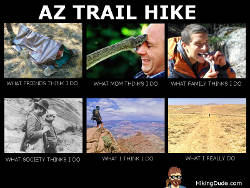 Click the image for a larger view.
Which one do you think of when you hear someone is hiking 800 miles across Arizona?
Hike On
Posted: 13:26 02-28-2012 755
---
All Comments:
Feb 29, 2012 - Mom
Actually I think all of those pictures are about what is. I wish this hike will be everything you hope it will be. Good luck and keep in touch.
---
Mar 06, 2012 - Carol Dougherty
I suppose I think of 1 and 6. I don't think of Arizona as mountainouse, but I know Superstition is there. Also know it's hot, hot, hot in August even if the humidity is low. Been there, done that. Sedona was my cup of tea. Your trip sounds like a wonderful adventure. Be safe and enjoy!
---
---
Ask a Question
---


Find more Hiking Resources at www.HikingDude.com
Follow Me