Nighty Night Post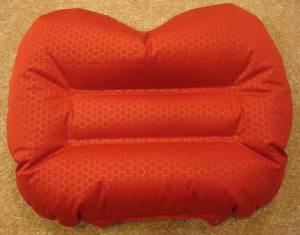 I really, really, really want to be comfortable sleeping on my Arizona hike. Without restful sleep, I'm afraid I'll get worn out much faster. That's where this lightweight pillow becomes a necessary piece of gear. OK,
necessary
isn't quite true, but
highly desired
is.
Three things make nighttime more pleasant:
Warmth - This is the most important, for survival and rest. I told you about my sleeping hat that I made. I've got layers of clothes. And, I'll show you my sleeping quilt pretty soon.
Safety - actually, it's feeling safe and not worrying about monsters, critters, bugs, and my position on the local food chain. Crawling under the covers will help with this. :-)
Comfort - rocks, sticks, and cactus don't make a good mattress. I feel it's worth the weight to carry some light sleeping surface. I still need to decide on which to use. A pillow falls in this category, right?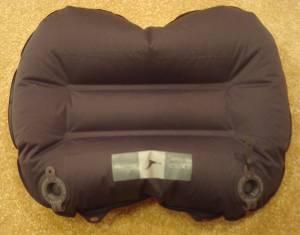 My new ExPed inflatable pillow seems practically perfect for long hikes.
It weighs 2.7 ounces which is a lot less than using a ball of extra clothes. (I expect to not really have
extra
clothes since I'll be wearing them to sleep or they'll be dirty from hiking.)
As you can see from the photo, there are two parallel lines across the face of the pillow. These are baffles connected through the pillow and they stop that balloon effect that many inflatables have. Your head doesn't always just roll off this pillow.
When deflated, it rolls up tiny and takes very little pack space.
The fabric feel is nice - not like a zip-loc baggie.
I bet it would weight .5 ounce less if it had only one valve, but ExPed has one-way flat valves on their inflatables to ensure full inflation and easy deflation. It also has a little repair kit - identical to inflatable sleeping pad repair, so I won't need to carry two repair kits.
Hike On
Posted: 9:36 01-22-2012 735
---
All Comments:
Feb 10, 2012 - Hiking Dude
I can hardly wait to use my new pillow on the trail.
---
Apr 09, 2014 - Devon Cifarelli
I love your hiking pillow. Could you tell me where I could purchase on. much thanks
---
Apr 17, 2014 - Hiking Dude
@Devon - I got mine at REI, but it's available at many online stores too.
---
---
Ask a Question
---


Find more Hiking Resources at www.HikingDude.com
Follow Me