That's Righteous! Post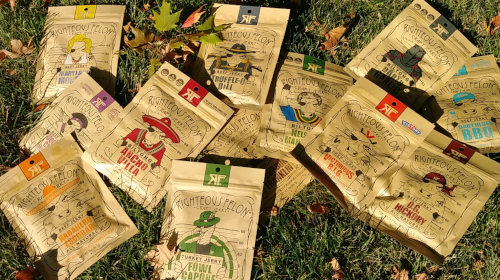 Besides hiking a lot, I brew beer. Homebrewed beer has a lot more character than mass-produced beer, and it's usually unique, flavorful, and powerful. I just discovered that craft jerky is definitely not the same as mass-produced 'jerky', and is more like homebrew - unique and packed with flavor!
TL;DNR - I taste tested this dirty dozen bags of Righteous Felon jerky to see if the product was as good as the hype. Oh, yes! It was a rainbow of flavors, ranging from sweet, sugary, barbeque to eye-sweating chile peppers, with some detours through a plethora of herbs and spices along the way. Just go buy or steal their Righteous Sampler for yourself and get all 12 flavors - use HIKING10 promo code to knock 10% off the price, or off your jail time.
What's This About? - The righteous folks sent me a box of craft jerky to try. They do all their dirty deeds in Pennsylvania, not far from the Eastern PA State Penitentiary if that tells you anything. The claim is that small-batch, craft jerky just murders the big brand, always the same, jerky stuff that you're used to gnawing on. I've eaten plenty of jerky on my long hikes and it's pretty much just a salty snack to chew away on while putting in miles. So, I did a 12-mile hike and 20-mile bike ride this weekend, and took my sack of jerky along. I wanted to see if craft jerky is any different - my oh my, this weekend set me straight!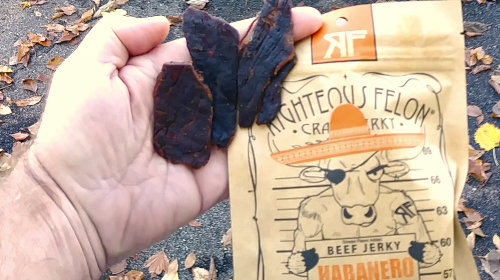 Where's the Beef? - You won't be wondering with this jerky. It's all prime cuts of American Black Angus beef raised outdoors in pastures in Texas and Maryland, and free of antibiotics and growth hormones. A cool thing about this jerky is it's just beef, lots of beef - and no unpronounceable preservatives and chemicals added. And, that means a solid protein source for hiking and other outdoor activities that challenge your body to recover from hours of muscle stress.
It's Just Jerky, Right? - Yeah, no, I thought so, too. The Righteous recipes all have that solid Beef as their main ingredient, but every recipe has its own mix that delivers a unique taste bonanza. I tried the whole dozen and have ranked them in order of my preference below. I noticed a few things about ALL the choices:
Good Meat - some pieces were softer than others, but generally all of it had a good, healthy chew with nothing too hard or tough. Consistently good texture and a nice beefy flavor throughout.
Flavor Over Salt - not overpowering or bland, just the right amount of saltiness letting the real flavors come through. The Maryland Monroe flavor was the only one that tasted a bit too salty for me.
Unique Taste - the recipes made for very different tastes, each with their own style.
Fun Names - each recipe is a play on some famous name, each having something to do with the flavor.
But, Didya Like It? - It turns out I kinda prefer hot & spicy jerky, followed by sweet & smoky, with strong herb seasoning bringing up the rear. But, there was only one that I didn't really care for:


Habanero Escobar - My absolute Fav! Habanero peppers take their time in releasing the heat as you chew this jerky. It started a bit sweet, but that was overtaken by the habanero heat after awhile. Lock this one in the vault!
Ancho Villa - Ancho pepper heat builds as you enjoy the beefy biltong. These Mexican peppers may have been smuggled in, but I don't care.
Voodoo Chile - What do you expect from the world's hottest chili pepper? Yeah, it's HOT!!! It started slightly sweet, but the heat exploded after chewing for awhile when it was too late do do anything about it. The back of my tongue got hot, then my throat, then everywhere. I sweated more chewing this than that time the popo interrogated me in the Big Apple.
Bourbon Franklin - Pretty much the polar opposite of the Voodoo Chile recipe, this bourbon and vanilla bean jerky is just as much fun. I enjoyed this sweet smelling, sweet tasting jerky almost as much as conjugal visits during my time in San Quentin.
O.G. Hickory - This is pretty much what you'd expect from a hickory smoked jerky. It tastes and feels great, but no wild taste sensation. If you're a boring white-collar criminal skimming pennies off the ledger, then this is your jerky.
Baby Blues BBQ - From the name, I wanted it to taste like barbeque sauce but I didn't get that. A little habaneros & serranos peppers provide some heat to balance the BBQ sweetness, so it's a great choice for an illegal poker night in Minnesota when the guys want to get rowdy.
Darth Garlic - OK, this one was pretty weird. There's no saltiness. There's no sweetness. There's no heat. Weird, huh? It smells and tastes really good, though. It's just like chewing on a moist, tender, seasoned slice of beef.
Truffle-o Soldier - Mushroom jerky is a new one for me, but it's certainly an interesting taste treat. Opening the package, I could not identify the aroma. Chewing it, I could not identify the taste. But, a definite earthy, mushroomy aftertaste lingered around. The truffle flavor comes from contraband seized in a Pennsylvania raid and then lifted from the evidence locker by Light-finger Lefty hired by the guys at Righteous Felon - but don't tell anyone.
Maryland Monroe - Impregnated with hickory & crab spice, this jerky tastes a whole lot like the Old Bay seasoning in the pantry at Norma Jeane's house that she uses on shrimp, salmon, crab, whatever. The celery salt is pretty powerful, making this the most salty tasting of the bunch.
Victorious B.I.G. - This is the one flavor I was really looking forward to trying. The hype said it has some beer flavoring it, so of course my imagination took over and I was expecting a chewy chocolate stout. Alas, all I got was a great tasting, sweet jerky with a potent black pepper punch. If I was honest, instead of a scoundrel, I'd rate this higher, but I'm still bummed about missing the beer taste.
Fowl Capone - Best Name award winner! If you like the aroma and taste of basil, corner the market on this jerky. It smells like my wife's basil plant, definitely basil tasting, somewhat sweet with lots of herbs.
Nelson Mandilla - Obviously, this biltong was secretly transported through Righteous Felon's South African connection. It was hidden inside a cargo of fresh dill weed inside a slowboat across the Atlantic for 3 weeks. It has a powerful dill aroma, and tastes like chewing on a dill plant, not salty, not sweet, not peppery. My taste buds just didn't get along with this one.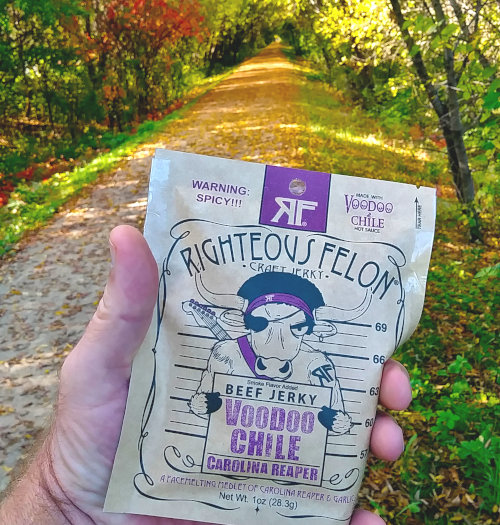 The HOT One!
Is This Legit? - You can't really trust a gang called Righteous Felon, can you? So, listen to me instead. After all, I've never been convicted of any felony:
It's Gluten Free, except for Bourbon Franklin and Victorious B.I.G. due to the booze used in their flavoring.
Made in USA, baby!
High protein, and that's the whole reason for jerky anyway, 'miright?
Simple ingredients! Here's what's in my favorite Habanero Escobar - beef, water, brown sugar, soybeans, salt, molasses, chipotle pepper, vinegar, black pepper, natural smoke flavor, alcohol, habanero peppers, garlic powder, onion powder, red pepper, paprika, cloves, chili powder.
What's the Catch? - Go to https://bit.ly/2Z5n20y and use HIKING10 for 10% off your order.
Check out Righteous Felon Jerky Cartel to wina buncha jerky fer yerself before Oct. 8 - yeah, that's this year, 2021, duh!
Pssst, Buddy, Down On Your Luck? - Righteous Felon jerky is around $44/lb which is right in the ballpark of other high-end jerkies, certainly not cheap. The mass-produced, monotonous, chemical-laden brands are half that.
If you're looking to save a bit, they have 8 ounce bulk bags of jerky that saves about 14%.
If you're feeling adventurous, they've also got Shredded Jerky Chew which is a hodgepodge of all their jerky bits thrown into a bag. You don't know what flavors you'll get, but it's just $16/lb! Perfect for a hungry hiker wanting a surprise selection of snacks. It's all good.
Finally, the cheapest option is a bag of their meatstick nubs, the ends from their meatsticks. Same good meat and taste, just bite-size pieces for $12/lb.
Biltong? Huh? - Yeah, new to me, too. Biltong is just a different way to preserve meat. It's like jerky, but air dried for many days without heat rather than with heat. It originated in southern Africa while jerky comes from South America. Now you know. Your day wasn't wasted!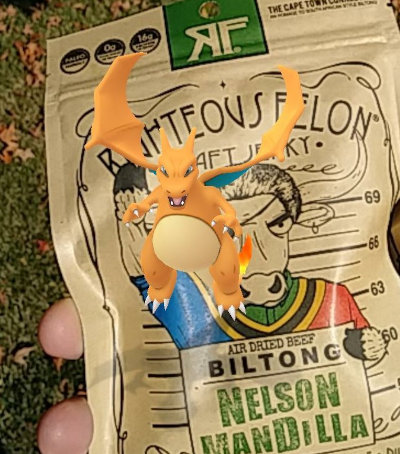 Great Pokemon GO snack - Catch 'Em All!
Posted: 15:27 10-04-2021 1581


Find more Hiking Resources at www.HikingDude.com
Follow Me