2021 BWCA Canoeing Post
Today's blog post is from my wife. Last week, she had a canoeing adventure in the Minnesota Boundary Waters Wilderness with friends. And, it included some hiking, so here you go...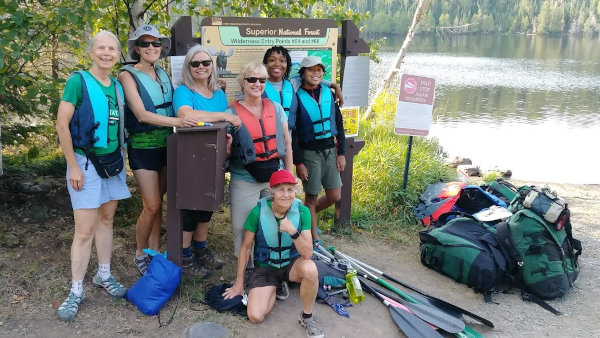 Our group of seven women (ages 15 - 68 with the majority of us over 55 years) spent 4 days in the BWCAW from August 20th through August 23rd, 2021.
Rockwood Lodge & Outfitters
provided all of our gear and equipment in an extremely flexible and friendly manner. We decided to pack our own food (more about that, later), and since we were a church group, they offered us very reasonable, non-profit pricing.
We left the Twin Cities at 10:00 a.m. and arrived at Rockwood around 4 p.m. While Mike put together our equipment, we headed over to the nearby
Trail Center Lodge
for dinner. As always, the food was delicious and the staff cheerful and efficient.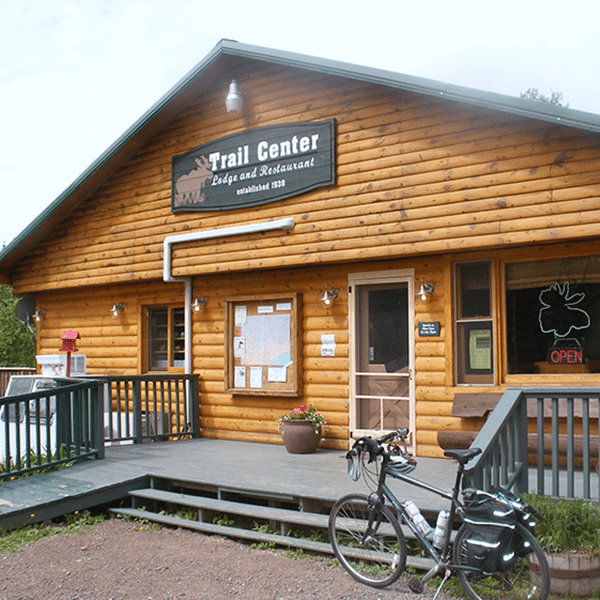 Then we headed back to Rockwood to do a gear/equipment check and begin packing our personal gear and food. Rockwood provided waterproof packs for each person which easily allowed two people to share a
Granite Gear portage pack
. We spent the night in one of Rockwood's bunkhouses (complete with a bathroom/shower & towels), and chatted with our neighbors who had just completed their trip and were happy to share helpful tips.
We were up and eating breakfast at 7 a.m. with the goal of an 8 a.m. departure time. Mike brought us hot coffee to enjoy with the muffins & grapes that we had brought from home.
After we watched the
required video
, Carl hauled our three canoes to the East Bearskin Lake entry point (#64), and we were on the water by 9:00 a.m. We paddled east along the south shore of East Bearskin Lake to the portage into Alder Lake. There, we met another group heading home who shared information with us about open campsites on Alder Lake and Canoe Lake. We continued paddling east on the northern finger of Alder Lake to the tip of the west shore peninsula where we checked out an open campsite (
#705
). It was smaller than we needed, and our plan was to leave the 3-person canoe at the site, and paddle on to Canoe Lake with the other two canoes to see if some of the bigger campsites were available. As we watched nine canoes head past us towards Canoe Lake, we decided that we'd all stay put, make this smaller site work for us, and enjoy a shorter paddle home on Monday.
We scouted the site thoroughly to find usable tent pads for our two 4-person tents and one small 1-person tent. The site had one good tent pad up the path from the fire grate area, and quite a few options for the 1-person tent, but finding a spot for the last tent was a challenge! Since fires weren't allowed in the BWCA due to extremely high fire danger, we were able to set up one of the 4-person tents near the fire-grate area.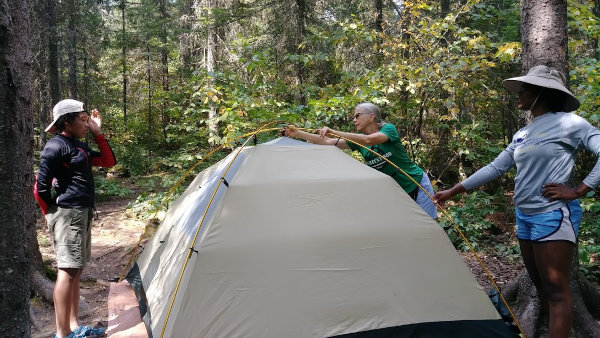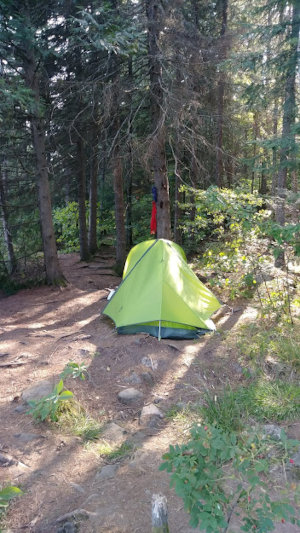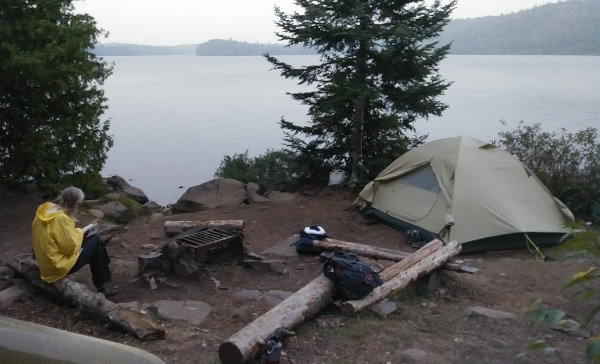 Next, we put up a tarp because we knew the forecast called for rain. This would give us a place to cook & eat meals if it was raining, and allow us to keep our portage packs dry (less weight to carry). We also set up the
Platypus gravity water filter
provided by Rockwood.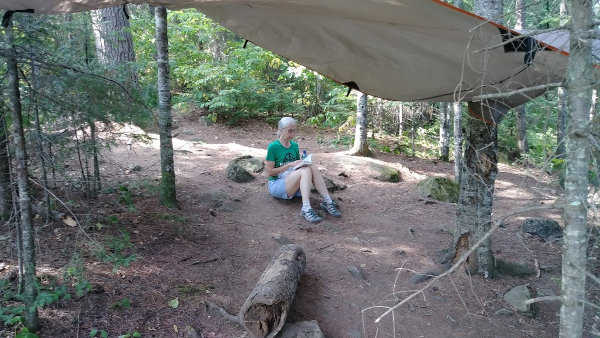 And then came our favorite group building, problem solving activity - hanging the bear bag! Our goal this year was to master the
pulley system
. We did pretty well, but based on the stories we heard from other campers on Lake Alder and Canoe Lake, it's likely that a bear could have taken our food.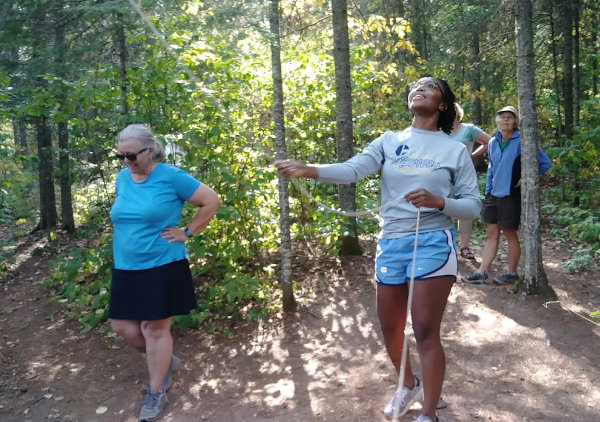 Sierra was our 'rock' star, using her softball skills to get our rope up and over a high branch. Then we used a method where most of the group pulled the food bag rope and a few people pushed up on the bag with paddles to get the bag up as high as we could. We kept all of the food, garbage and our toiletries in the bag except when we were eating.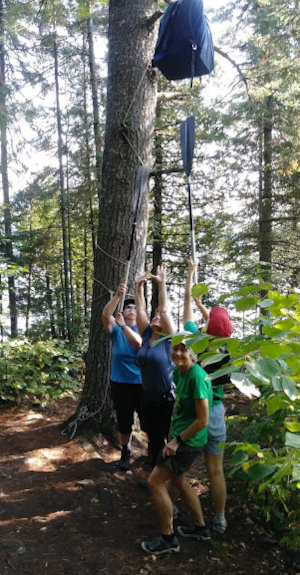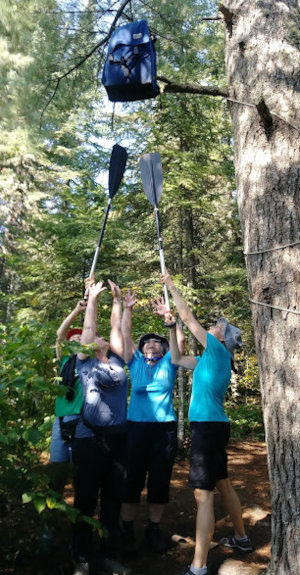 Speaking of bears . . . We met three different groups who had been significantly impacted by a bear stealing their food. This was something we had not encountered before, and certainly gave us pause. One group told of the bear coming into their camp while they were eating breakfast and going to their closed (but not locked because they were eating) bear barrel and taking the barrel of food into the woods. Another group said that the bear climbed the tree and jumped out to pull the food down. The last group reported that the bear clawed the rope tied to the tree trunk, so that the food came down. We were lucky that the bear didn't come to our campsite, because if it had, we would have likely lost most of our food and had to head home early.
We decided to pack our own food to save money, have the food we like to eat and have the right amount of food. We only needed one stove, a couple of pots with spoons for stirring, bowls, cups & spoons. For breakfast we had options such as protein bars, granola bars, and instant oatmeal packets. We also had hot cocoa mix & instant coffee. For lunch we had bagels, cream cheese, flat bread, sausage, cheese, peanut butter & honey. For snacks we had LOTS of dried fruit (apples, bananas, pineapple, mango & cantaloupe all dried at home the week before the trip), beef sticks, trail mix, candy bars & small bottles of water flavoring. Our dinners included Knorr alfredo noodles with Sweet Sue's chicken breast, Chef's Cupboard 3-bean chili (from Aldi) combined with a 4.5 tube of concentrated tomato paste and Knorr chicken rice with Sweet Sue's chicken breast. For dessert we had Knoppers - a yummy treat reminiscent of S'mores and found at Aldi.
Rockwood lent us nylon zip storage bags so that we could keep our food organized by meal. Each morning we put out the bags for breakfast food, snacks & lunch. Then we each used those options to eat a breakfast of our choice and pack our individual snacks & lunch food for the day using personal ziplock bags that we reused throughout the week
First night's meal - chicken alfredo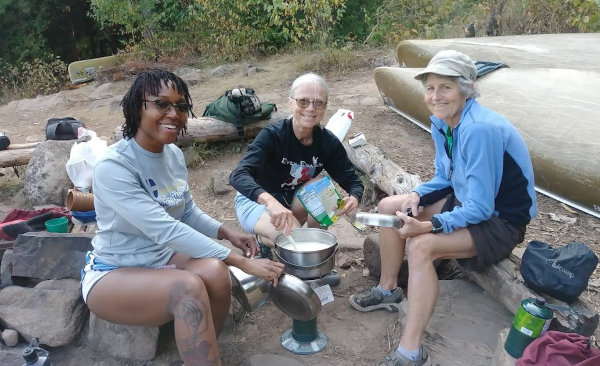 Lunch/snack break at Johnson Falls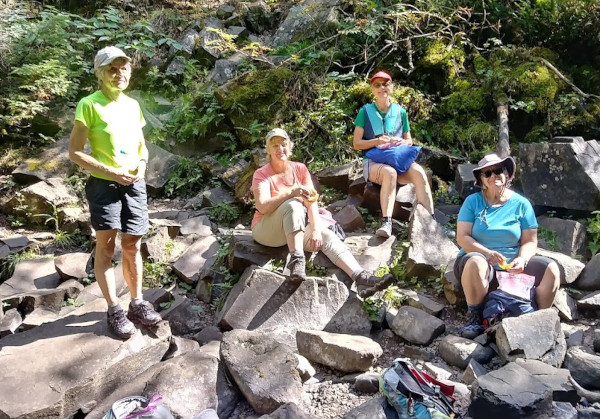 Saturday was a cloudy, windy day, but we headed out on a day trip with our rain gear, lunch/snack bags, TP, first aid kit, water,
Katadyn water filter pump
, sunscreen & bug spray. Our plan was to paddle & portage to Moon Lake and perhaps hike a bit on the trail. It turned out that the portage from the north finger of Alder into the north finger of East Bearskin was an unmaintained portage. We had to carry the canoes over several downed trees as we made our way along the steep trail. It was NOT fun. Once we were in East Bearskin, the wind picked up and we were paddling in white-caps. We stopped as a group to make decisions about continuing to Moon Lake, returning via the longer water route, or returning via the unmaintained portage with less time on the water. We decided that paddling in the wind and white-caps wasn't a safe choice, and although we REALLY didn't want to repeat the unmaintained portage, that's what we did. Our return to the campsite was challenging, but we made it safely and enjoyed some much needed rest for the remainder of the afternoon and hot chili for dinner.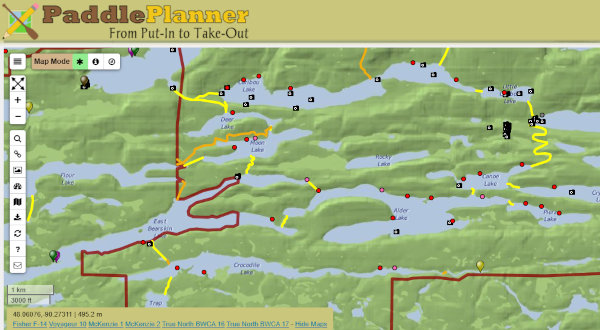 Sunday was, as we expected, sunny with very mild winds. We filled our day packs for our adventure to Johnson Falls, including swimsuits and towels. When we arrived at the Zig Zag portage at the far east end of Canoe Lake, we stowed our canoes, paddles & life jackets in the woods, and hiked for 45 minutes to Lower and Upper Johnson Falls. We enjoyed a beautiful lunch break at Lower Falls, and Kelly & Deb braved the cold water for a refreshing swim! Also on Sunday, our youngest & oldest group members learned how to portage the canoes.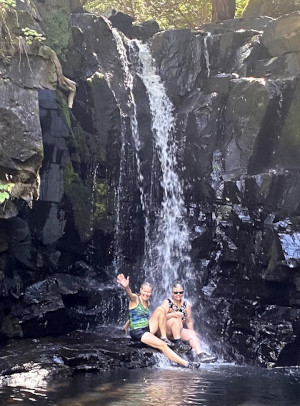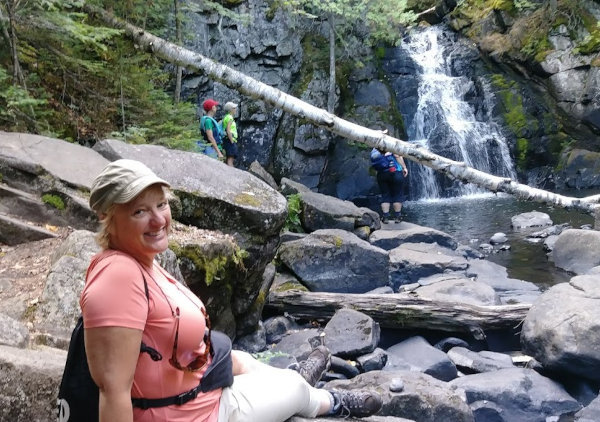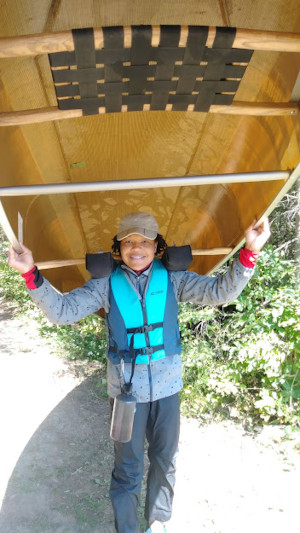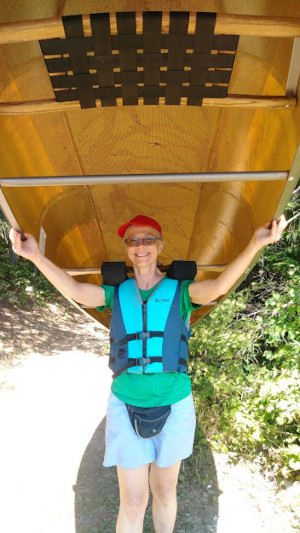 Monday morning we packed up, made sure our campsite was clean, and were on the water by 8:00 a.m. As we headed west on Alder Lake, a canoe with two Forest Service employees stopped us. We were sure that they were going to tell us about the bear problem, but it turned out that they were letting us know that the entire BWCAW was closed due to fire danger (for the first time in 40 years) and that we needed to leave. They had started informing groups to leave on Saturday, and lucky for us, they didn't get to us until Monday.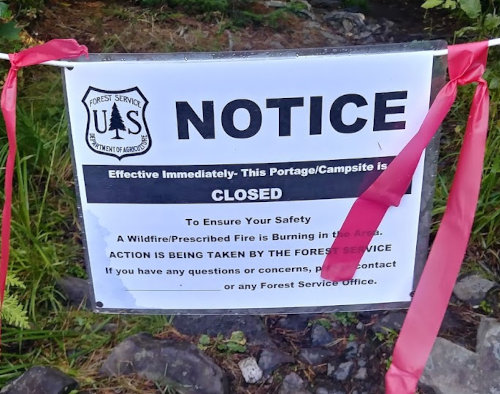 We were able to enjoy our entire stay in the BWCA despite bears and forest fires. Here's a link to our trip on
Spotwalla
.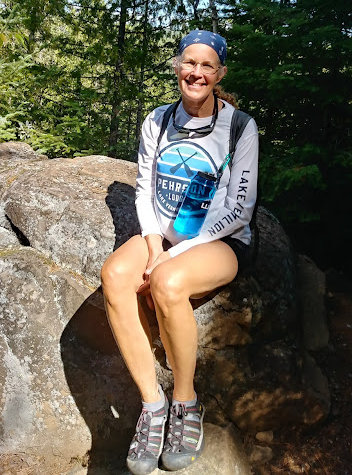 Guest blog by Kelly Kautz
Posted: 18:45 08-27-2021 1578
---
All Comments:
Aug 28, 2021 - Karen Kautz
Thank you , Kelly, for the interesting report of your adventure. The photos are great. You all had a great experience.
---
Aug 31, 2021 - Brenda Cummings
Looks like everyone had a great time. Thank you for sharing your adventures. So glad the fire and bears didn't run you out to early.

---
---
Ask a Question
---


Find more Hiking Resources at www.HikingDude.com
Follow Me