Blue Blazes Post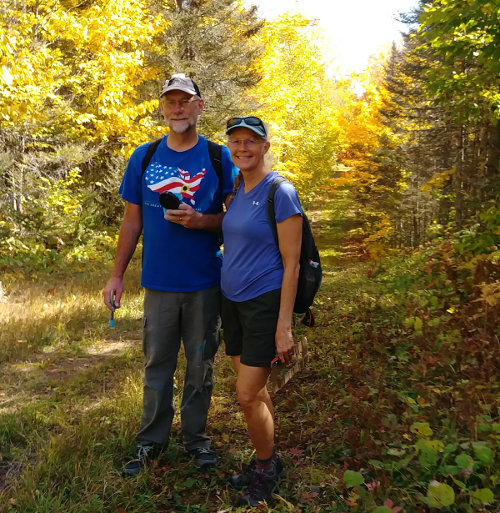 (Click any photo for full size)
After we completed our
Shore-2-Summit Loop
, we took a day to give the Superior Hiking Trail a little TLC.
Last year, we participated in the
Blue Blaze Blitz
to repaint all the blue blazes along the entire 310 mile trail. This summer, the SHT Association asked me if I'd be able to touch up a section that was in need, so I said, 'Ya, sure, you betcha!'
I picked up a bag full of supplies from the front porch of my SHTA contact in Duluth which included a scraper, paint, brush, stencil, clean-up rags, and a map of the area to blaze. This time, we were assigned a 3.5 mile section just north of Duluth city limits. We would hike 7 miles since we would need to blaze in both directions.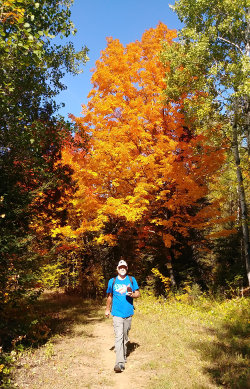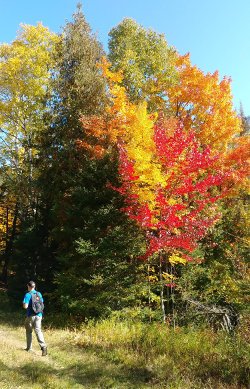 We were blessed with the third practically perfect day in a row to be out hiking. Great temperature, no bugs, no humidity, no weather, and trees in their colorful progression towards winter.
As you can see, the trail here is wide open and obvious. That's because this section runs on the C.J. Ramstad/North Shore Snowmobile Trail which is flat, wide, and brush-free. Blazes are not really needed along here, but many hikers like to see them occasionally just for reassurance.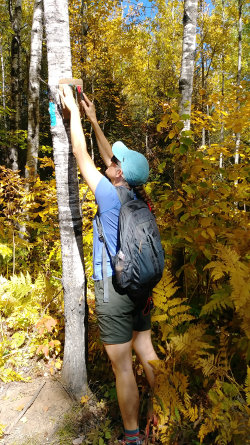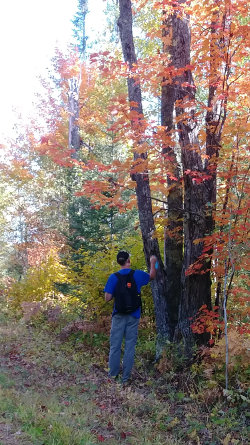 The vast majority of blazes we made were just touching up existing paint. We counted out 100 paces and would typically find a tree in the area that was easy to see and had an old, faded blaze. On the few occasions where there was no existing blaze, a scraper was used to remove lichen and dirt for a new blaze about 6 feet up a tree. Occasionally, I broke down brush that was growing in front of a blaze to make it more visible.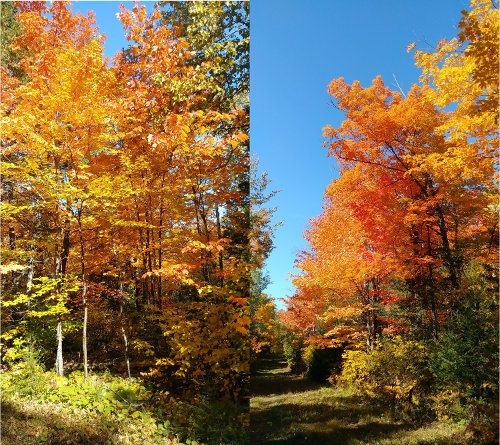 When the snowmobile trail portion was complete, we still had 3/4 mile to do where the SHT ran beside a road. The trail was obvious and there were very few trees, so we just touched up a couple carsonite posts we could find and one or two trees.
Unfortunately, the trail was so obvious that we walked right past the unmarked spot where the SHT abruptly leaves the roadside at someone's driveway while an obvious trail continues along the road. I had to come back with mineral spirits and wipe off a blaze I overenthusiastically made past the turn-off.
To help make the turn more obvious, we put a SHT sticker with a blue arrow on the only small tree around and added a sticker to a wooden sign in the driveway. We got the opportunity to see if the stickers helped immediately.
A female thru-hiker came walking down the trail just after I got the extraneous blaze wiped off so I stopped to see what she would do. She walked right past the driveway and kept going on the obvious path just as we had done. So, I asked if she was hiking the SHT and pointed out that it left the roadway here when she said she was. Whew, catastrophe averted, but I expect it is a very commonly missed turn.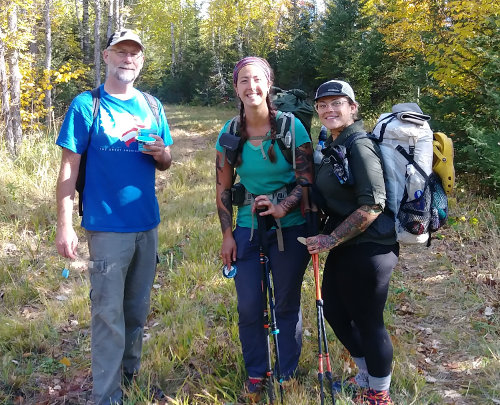 Speaking of thru-hikers... Besides the one at the driveway, we ran into three others, plus a solo man on a section hike, and a couple that looked like they were on a long trek (but they did not stop to chat). These two young ladies visited with us for a few minutes which was the highlight of the day! They looked way too fresh and energetic to have been on the trail since the Canadian border nearly 3 weeks ago.
It is amazing to me how many people are hiking the entire SHT this year. These two each received a
Hiking Dude sticker
for their water bottles.
All the thru-hikers we met were female, and two of them were solo hiking the trail.
You can see a track of our walk
HERE
- it is the tiny bit down by Duluth.
Please consider volunteering to help maintain the trails in your community. And, tomorrow (Sept. 26) is
Natl Public Lands Day
and there might be a volunteer event near you to join.
Hike On!
Posted: 19:33 09-25-2020 1524
---
All Comments:
Oct 02, 2020 - ElleRog
I'm one who loves to see those blazes for reassurance! Thank you (and everyone) for doing this!
---
---
Ask a Question
---


Find more Hiking Resources at www.HikingDude.com
Follow Me