Darn Tough Post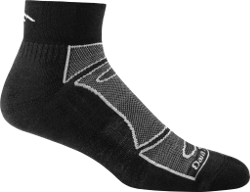 I bought two pair of Darn Tough Vermont
socks
for my AT section hike. They were pretty expensive ($17) but have a warranty that states they can be returned for free replacement whenever they wear out.
I'm tough on socks. Hiking 20-30 miles a day for two months in dust, dirt, sand, and rock tends to wear everything out. Sure enough, I wore holes through the bottom of all four socks this summer - but not until I'd worn them for over 1,500 miles. They lasted longer than three pairs of shoes!
For perspective, when the Darn Toughs wore out, I bought a pack of 4 pair of other socks and wore through all of them in the last 500 miles of my PNT trek.
When I returned from my
PNT thru-hike
, I sent back the Darn Tough socks and crossed my fingers, hoping the warranty was legit. The return postage was a couple dollars.
Well, sure enough, this week I just got a small package with two brand new pair of Darn Toughs and my feet have been skipping in comfort on my morning walks the last couple days! Nice padding on the bottom and no extra weight up the ankle.
If you are looking for durable, comfortable, light hiking socks with a great warranty that is fulfilled with no hassle, give
Darn Tough Vermont
a look. I like the 1/4 length ankle socks, but they've got a bunch of styles.
(I bought these socks and have received no compensation for posting my thoughts. I just really do like them.)
Posted: 20:47 10-12-2017 1440


Find more Hiking Resources at www.HikingDude.com
Follow Me