Food for Treks
Daily Food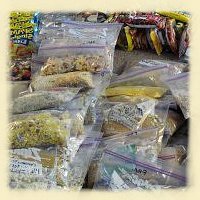 Pretty much any snacks work to provide energy for a
Day Hike
since you can eat a healthy breakfast before hiking and a nice dinner when you get home.
Once your hike becomes multi-day, your nutrition needs change greatly. You now need to ensure your body is receiving more than just calories.
A good distribution of foods from the food pyramid, possibly supplemented by a daily vitamin will keep you hiking strong for days, weeks, and even months on end.
The calories you consume should be around 15% proteins, 50%-65% carbohydrates, and 20%-35% fats.
Carbohydrates provide faster energy, fat more long-burning, and protein replenishes and keeps muscles healthy over time. Reducing protein too much will be devastating on a long-distance hike.
Carbohydrates and proteins have 4 cal/gram (113 cal/oz), while fats have 9 cal/gram (255 cal/oz). It is a good goal to find calorie-dense foods so fewer pounds are carried for the same amount of energy. A food pack containing about 4.25 cal/g (120 cal/oz) is fairly dense. Most multi-day hikers carry 1.5 to 2.0 pounds of food per day. That means carrying more than about ten days of food becomes impossibly heavy. For longer treks, read about supplying food along the way.
The process to outfit your trekking food is:
Estimate how many calories are needed with this Calorie Calculator.
Create the meals with this Menu Planner.
Shop for food. Start early and buy when items are on sale since they can be stored.
Repackage. Just before the trek, repackage food into meals so all ingredients are easy to find.
List required utensils. Choose food to minimize the extra tools needed.
The planning of food, shopping for ingredients, and repackaging into meals is an enjoyable part of planning for a long hike. It's exciting to think I will be preparing this meal while the sun is setting on some far mountain.
Figuring out what tastes might work together, making sure I have enough but not too much food, understanding what utensils are needed to make the meal - all parts of the planning that can be a lot of fun.
Some people like real food, such as steak, stew, hamburgers, or other items that take real cooking and weigh a ton. These people tend to take day hikes from a base camp, exploring an area thoroughly.
To take an extended trek requires changing your expectations of food and the effort involved in carrying it and preparing it. Minimizing the weight to carry and the time, fuel, and utensils needed to prepare a meal are the main goals.
Reduce the Weight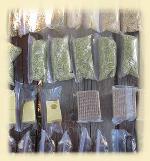 It makes no sense to carry any more weight than necessary. Since a large portion of total pack weight can be food, that is a good place to start lightening the load.
There are a number of ways to reduce the weight of your hiking food:
Dehydrate - buy your own food dehydrator and dry fruits, vegetables, and meats. Most inexpensive and healthy option but requires effort at home. A dried apple is still an apple, just without the water.
Buy Prepackaged - purchasing freeze-dried or dehydrated meals is the easiest. It is also the most expensive and can introduce large amounts of sodium and preservatives.
Calorie Density - read the nutrition labels on foods. Find those that are dense in calories compared to weight. Sunflower kernels are 190 cal/oz while an apple is 15 cal/oz. and a dehydrated apple is 100 cal/oz.
Repackage food - you'll be surprised how much garbage labelling you'll throw away. Better to just leave it at home rather than carry it mile after mile just to throw away later.
Other Trek Food Tips
Take dehydrated fruits and vegetables to help input vitamins not found in processed foods.
Take a daily vitamin each day to help fill any lack of nutrition in your food choices.
Pack spices. Take a lightweight container of 5 or 6 common spices to add flavor to meals - salt, cayenne pepper, garlic, cinnamon, chili powder, onion, or whatever you like.
If you expect cold mornings, or aren't eager to start hiking bright and early, have oatmeal and hot chocolate. On long treks, I prefer packing up and moving right away with a break for Pop-tart, granola bar, or trail mix after an hour or so. This saves a lot of time heating water and clean up. It also means less fuel to carry.
The ultimate lightweight meal packaging is to just take your credit card. When thru-hiking a long trail that goes through towns, it's a lot lighter to eat at a restaurant or buy fresh food at a grocery store than to carry your meals.
Andrew Skurka says Balance Bars are great. He ate 1,100 of them hiking across America.
Brian Robinson says Snickers Bars are inexpensive, tasty, and packed with 280 cal in 59g.
Ask Me
about Backpacking Food!
Or, read more about:

Resupply Options

Cooking Options
---
All Comments:
Sep 07, 2012 - Grant Volrathy
THIS WAS REALLY HELP FULL THANKS ALOT!!!
---
Mar 22, 2014 - Don Stock
I'm a big believer in omega-3 fat from animal sources, which means DHA and EPA, not ALA (from flax seeds for example). How does one get enough while on a multi-week or multi-month hike? I'm concerned about fish oil capsules turning rancid after days in the heat.
---
Apr 05, 2014 - Christian smith
The answer you the question about omega 3s and ala the anserw is chia seed you can eat it raw or mix it in a drink wTer with sugar or even gatorade
---
Jul 06, 2014 - reinhardt
hi, me and my three brothers are going on a three day 40 k hike what type of food do you advise me to bring
---
Jul 20, 2014 - Hiking Dude
@reinhardt - I'd take calorie-dense food that I liked. Snickers bars are my favorite! For just 3 days, it doesn't really matter that much.
---
Nov 03, 2014 - Kristian pilgård
To cut to the chase, then I was thinking, with alot of trekking food, or hiking food. Can one not easily come to feel empty?. To simplify, if there was a single pill that contained all the calories and more that I needed for a full day. I havent been out yet, but am prepping, planing and buying gear for a future trip. Used to do alot of day hikes in mountains with my family, so the idea comes naturally. But multi day hike is unknown. I have found it hard to kind of make mental image, or plan of which food I needed/wanted to bring. So yesterday I went to the store and bought everything that seemed to be good or rather correct calories wise, etc. Layed it all out on my table and put post-it notes on each with weight and calories (according to how much id imagin myself to wanting to eat of each per day). I found that helpful. From there I could atleast establish a minimum. Alot of nuts, sugars, oat, bread, and such ended on the list, but not so much something like a real meal.
---
Nov 06, 2014 - Hiking Dude
@Kristian - tuna, salmon, chicken in foil pouches work well for meat. I found I really like the taste of chocolate protein powder so I've used that as a supplement on some long treks. Lots of people take jerky, but I enjoy that for a limited time. Olive oil is very calorie-dense so many people add a tablespoon or so of that to their meals in the evening.
---
Mar 23, 2015 - Jim
I will be hiking the Grand Canyon Rim to Rim to Rim in June 2015, in 2 days. Besides snickers bars, what candy has the most fiber, calories, protein etc?? I do plan on taking peanut butter sandwiches, dried bananas,jerky and lots of water?? Thanks
---
Mar 23, 2015 - Hiking Dude
@Jim - In June??? That doesn't sound like a reasonable idea to me, but good luck. The food you plan to take sounds good to me. Protein bars and power bars provide a lot of what you ask about.
---
Mar 26, 2015 - Julia Hubbel
hey Hiking dude I'm doing the Annapurna circuit in May. My diet doesn't include complex carbs- no breads, rice, potatoes, noodles, that kind of thing - so looking for some ideas for what to take to bolster my diet. On the EBC I added Almond butter to the constant eggs, lemon tea and what limited fruit there is (like, none). I am thinking of dried cherries, that sort of thing, but weight becomes an isssue. Ten plus day trip. Suggestions are welcomed.
---
Mar 31, 2015 - Hiking Dude
@Julia - Sorry, but you know your diet much better than I do. I'll eat pretty much anything! A jar of Nutella goes a long way. Dried fruit and jerky, but that gets expensive. If you're not adverse to chocolate and candy, there's lots of calories in Snickers.
---
May 11, 2015 - Pat Corn
I'm taking a 250-mile hike through the MA and VT portions of the Appalachian Trail. My friend and I expect it to take between 10 and 14 days. I don't want to take a propane stove or extra water, so what do you recommend? I'm thinking about jerky, granola bars, trail mix, peanut butter, rice cakes, nutella, and a few ready-to-eat items. Also, hould I take all the food at once or resupply half-way through? Much appreciated.
---
Jun 07, 2015 - jim
Love your site. What do you think of survival tabs?
---
Jun 08, 2015 - Hiking Dude
@jim - I've not tried them, but from checking out their website I see no reason to try them. The tablets are just made from milk solids, sucrose, and vegetable oil with a bunch of chemicals added. They say a 15-day supply provides 240 calories per day which is just silly - that's not enough even to barely survive.
---
Sep 29, 2015 - marcus
hey dude, im planning a 450 km hike what kind of food should i be taking for 20 plus days and are vitamins a good addition?

thanks
---
Sep 30, 2015 - Hiking Dude
@marcus - I think a daily vitamin is a good idea since they weigh little. The kind of food you pack should be: food that you will eat, weighs as little as possible, contains many calories.
I doubt you will be able to carry food for 20 days in your pack - that would be at least 30 pounds of food. A resupply part way through your trek is probably needed.
---
Jan 27, 2016 - StickeeRich
Hi Dude!...I'm planning my first ever backpacking trip. It will be a solo 4-5 day hike in the Smokey Mountains. Should I plan on just eating stuff that I don't really need to cook, or should I invest in some sort of device that I can use to cook some minimal stuff? I kind of like the idea of cooking a little something...I'm not worried much about the hassle of clean-up etc, but I also want to be mindful of NOT making my pack so heavy that I won't enjoy myself. Is there a little lightweight cooking device that you would recommend for me, or would you strictly recommend that I don't bother with any cooking? I don't think I'm actually allowed to make a fire on the trail, so if I'm going to have to boil water I assume I'll need something to heat it with...is that a correct assumption? Thanks Dude, I'm glad I came across your very Dudely site!
---
Jan 30, 2016 - Hiking Dude
@StickeeRich - Most people like to have hot food in the evening. See
Cooking
page. A tiny alcohol stove works well for heating water.
---
Feb 16, 2016 - Jac
Hey Dude, I am doing the first 300 miles of the Colorado Trail from May to June this summer. I am projecting it taking 23 days. I was thinking about doing dried foods for breakfast and lunch with granola bars and such for intermediaries. And for dinner I was gonna cook either mre's or pre packaged meals. Does that sound sufficient for a trip of this magnitude. This is my first multi week trip. Have mostly only done week long at the most and packed in all my food at a time.

Thanks a lot!!
---
Feb 17, 2016 - Hiking Dude
@Jac - The food sounds fine to me. Going 13 miles a day, you'll need around 3700 calories per day. That would be almost 50 pounds of food, so I assume you are resupplying along the way a couple times rather than carrying it all at once.
The MREs that I've seen are a huge amount of extra weight for the amount of nutrition. I think you'd be better off with backpacking meals or dehydrated food.
On
CT FAQ
it says snowpack lasts into July so your attempt in May might be too early in the season.
---
Mar 31, 2016 - Rick
I will be trekking in Nepal in June 2105. After 3 days in Kathmandu I will be headed up to 8000 ft. via jeep then trekking up to 8500-8600 ft to set up a base camp the first night. Each day I will be trekking with a group 500 - 800 feet to rebuild homes destroyed in the 2013 eath quake.

Any suggestions for daily food supplies?
---
Apr 01, 2016 - Hiking Dude
@Rick - Are you joining a group? Don't they already have a proposed menu?
If not, I would bring peanut butter, ritz-like crackers, pringles, dried fruit, pouches of tuna and chicken, powdered gatorade, and whatever else sounds good, is calorie dense, and won't spoil.
---
Apr 01, 2016 - Debbie Staley
I will be treking the El Camino the beginning of January. How should I start training and how many calores will I Need. We planto walk 12-15 miles a day. I am 5.4 and weigh 142 lbs. I have a tendency to loose weight easily

Thanks
---
Apr 01, 2016 - Hiking Dude
@Debbie - You'll need around 110,000 calories to hike 500 miles in 35 days.
Read
this page
for training.
Read
this page
for calorie calculator.
---
Jun 02, 2016 - Ceri Ward
I'm planning a 1600 mile trek from imperia, Italy to Calais via mount blanc. The trek doesn't come across to many shops. I plan on taking 10 days worth of food at the start and making sure I hit some village/town to buy groceries. Italy and France don't pack to much dried food or even snickers. How easy is it to use a dehydrator? Plus could you email me some very high calorific foods to save on weight. My pack weighs 40 kg before food? Trying to slim that down to but just can't manage it.
---
Aug 22, 2016 - Keith Wilkinson
Reading the message byCeri Ward frightens me. I started trekking with The Penine way some years ago, pack weight 15 kg. without food and water. I made a determined effort to reduce that. My pack now weighs 8 kg, again without food and water. This includes tent, sleeping bag and air bed together with essential spare clothes and emergency gear. I suggest he checks his gear and removes any non essentials.
---
Oct 07, 2016 - Mistie
I have discovered that energy gels fill in the gaps in the energy lull pretty well. I like the Huma all natural gels that are just like a squirt of jelly but only last an hour or so. Full of electrolytes with coconut water and cane sugar. Downfall is a lot of small packs, but they are easy to carry and share or put on your food too.
---
Jan 16, 2017 - Cody
Hiking the John Muir Trail this Summer 17. Don't mind carrying a little extra weight to have something special in the the evenings. Any recommendations?
---
Jan 16, 2017 - Hiking Dude
@Cody - Good luck on your hike. If it's a "special" item, then it's entirely up to you to decide what is "special". Maybe a mint on your pillow, or a shot of alcohol, or colored pencils and drawing pad - all things that are just extra weight but you might find worth the weight, but not someone else.
---
Sep 18, 2017 - Pete
hi mate, in 2yrs time ill be dedicating a few years to do the triple crown ( ending the appalachian trail in maine ) then onto the trans canada trail, something iv wanted to do my whole life, and in 2yrs i have the chance to do so, i realize this is a mammouth undertaking but being well prepared for it is the key ( an friends along the way lol ), my question is what intake of calories should i be having a day? i cant seem to find any info on this much of a long hike food wise ( ill be carrying 10days worth of food at any one time ), any info would be great :)
cheers
---
Sep 18, 2017 - Hiking Dude
@Pete - There is a link to a Calorie Calculator in the page text above. It all depends on how much weight you are moving and how far you are moving it each day.
---
Feb 04, 2020 - Brian
Hi, wondering about the 20s food day comment, I'm not a tru-hiker rather my dream is to become a tramp... So the goal is the journey itself rather than kms per day, u know kiss the ground you walk, on loads of meditation and yoga etc... With 4 season rugged light weight gear before food water I cary about 8 kg.. Planning base meals of oats, ova eazy eggs (breakfasts) qenola and dried fruit wraps (lunches) flaked potatoes with dried vegetables and back country cuisine packs for teas... Around 10 kg of food, water, gas... Heavy packaging but I love the idea of 20 days between resupplys.. I think yeah as a tru hiker 20 days food unrealistic but for a tramp?
---
---
Ask a Question
---


Find more Hiking Resources at www.HikingDude.com
Follow Me