Hiking Socks

Hiking socks aren't just another gimmick to get more of your money. Wearing good quality socks while hiking will make your hike a much better experience and are an important piece of gear you should invest in.
Hiking Sock Goals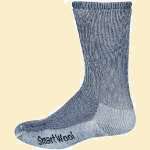 The main goals of your hiking socks are:
Cushioning your feet to make your hike more enjoyable
Wicking moisture from your feet to help prevent blisters
Keeping your feet warm when hiking in winter or adverse weather
Reducing blister-causing friction
Improving boot fit, but only very small amounts
Types of Hiking Socks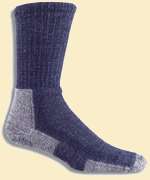 Hiking socks have evolved a lot in the past few years. Your old rag-wool wonders are now relics of the past. (I still have a few pair that I love, but don't wear hiking.) Now-a-days, socks are composite technical wonders, using different materials in different sections of the sock to best fulfill a job.
Stronger fibers to resist abrasion are used in the toe and heel areas.
Elastic fibers hold the sock snug to the ankle and calf.
Wool and synthetic cushioning and moisture wicking fibers are used around the foot to help keep the foot dry and warm.
A sock liner is a special kind of sock that creates an extra friction-reducing, moisture-wicking layer at a small price in money and extra weight.
Choosing Socks
When choosing socks, consider these tips:
Never use cotton socks for hiking. Cotton absorbs moisture and takes forever to dry.
Use wool to stay warm and still wick away moisture. Tend to be most expensive. Look for Merino Wool for softer, finer fibers.
Use synthetics if your feet sweat a lot because they wick moisture away better than natural fibers.
Turn the sock inside out and check the denseness of the fabric loops. Smaller, denser loops will hold up longer for cushioning and absorption.
Thicker socks tend to wear longer. The thickness can also help improve the fit of a very slightly large boot. Or, a thicker pair of socks in the morning and a thinner pair after lunch when your feet have swelled a bit might be something to consider.
Seams should be flat so they do not create more points of pressure on your foot.
Socks should have elastic stretch so they hold to your foot and do not slip down into piles in your boot.
The fit should be snug, but not tight. Any bagginess or extra length between heel and toe means its too big.
Caring for Socks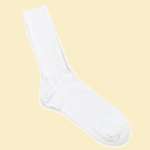 Hiking socks aren't cheap. You'll want to make yours work as well as possible and last as long as possible:
Wash inside out so skin particles, salt, and sweat are washed away.
Use just a small amount of fabric softener in the wash cycle to keep the socks soft.
Air dry or remove from dryer before they are completely dry and allow to finally air dry for a fresher feel and safer dry.
Commercial dryers are too hot and can shrink or ruin the socks.
Only use them for hiking, not for everyday
Or, read more about:

Deliberating Hiking Clothes

Picking Hiking Packs
---
All Comments:
Oct 03, 2012 - RJ Lewis
Love your site!!! Have been trying out a newer bamboo based sock. They wick well, seem to be durable, and are oh so soft on your feet. As of yet, I have never had a blister when hiking or backpacking. I use a 2 sock method and a comfy pair of well broken in, lightweight leather 3/4 height boot for general trips.
---
Dec 13, 2013 - joseph van baal
there is no reason for elastic to hold the sock up. socks should be made in sizes, just like shoes and boots. the elastic is bad for the circulation. smartwool socks, for example, are comfortable. but they make my lower legs swell up from the constriction caused the by cheap manufacturing (one size fits all, which just ain't so). do you know of any hiking sock, made in sizes, without elastic?? thanks
---
Mar 02, 2014 - Wium la Cock
Hi RJ, Thank you for your post. I read somewhere that bamboo socks have the same characteristics as cotton and should be avoided. Just goes to show....nothing beats experience. Thank you once again. I am using mohair socks....wow!!! The synthetic ones also work, but boy oh boy, in winter, the mohair do not allow a lot of cold to reach your feet, not even on a motorcycle at a ambient (static with no wind chill)temp of -3 degrees celcius. I will definitely get a pair of bamboos. If I get blisters, I will e-mail your name to all grizzly bears with laptops...they will sort you out (hehehe)
---
Apr 13, 2014 - TalkTheWalk
You may be right about wool being the best but of course quite a few people are allergic to wool - what would you recommend in these circumstances?
---
Apr 17, 2014 - Hiking Dude
@Talk - Many people that feel they are allergic to wool actually just have a skin sensitivity to it. They can wear a polypropylene liner sock and see how that works for them. If actually allergic, then there are many synthetic socks that insulate and cushion similarly to wool - thorlo is a common brand.
---
May 11, 2014 - trevor
I have been told to wash walking socks as little as possible is this true, i mean after days of walking.
---
Aug 06, 2014 - Jools
Hitting the Grand Canyon later this month - both rims! Have super lightweight Meindl boots; my feet can sweat a lot; have never blistered in either bamboo or merino wool socks. However, that's in cold UK hikes. Have trekked in Europe with super tough trekking sandals so no socks. Told to gave boots for GC so unsure which sock type to go for. Advice pls! Thanks
---
Aug 07, 2014 - Hiking Dude
@Jools - I wore lightweight trail shoes for the GC - no boots. I had no problems. The trail is not rocky and rough - it's well worn and dusty. Since your socks don't weigh much, maybe take both kinds you like and switch them up if needed. I just wore a single lightweight sock, nothing fancy.
---
Oct 17, 2014 - DB
I love my bamboo Ecosox hiking socks. Bamboo is the stuff! They are at www.ecosox.com/hiking-socks
---
Jan 11, 2015 - Mark Devlin
Can someone advise on the one or two sock method.
---
Jan 16, 2015 - Hiking Dude
@Mark - Sure enough. A liner sock helps with blisters, keeps feet cleaner, and allows you to replace the liner or outer sock or both. You can always take out the liner sock whenever you want, so using two socks adds only a tiny bit of weight to your pack. Two socks tend to be better for occasional hikers (that's most people) but not needed by people that constantly walk and have conditioned foot skin.
---
Feb 24, 2015 - Peter
@ Mark, I aways wear 2 socks in my boots when hiking, generally both wool but have just purchased some bamboo socks (wool 2nd pair) for an up coming cross country race. For me i get better blister protection, cushioning, better fit in my boots without doing them up too tight, more moisture absorbtion etc etc. Recommend that you try it.
---
Aug 05, 2016 - Michael Keethers
Hiking the Long Trail which gets extremely wet. Going with a Trail Running Shoe(Ultra Raptor-LaSportiva)...Suggestions on a Sock for this Trail?
---
Aug 09, 2016 - Hiking Dude
@Michael - I've had good luck with Darn Tough socks this past year. Merino wool socks in general work well in damp/wet conditions. A polypropylene liner sock inside your sock weighs very little and can be a big help in reducing friction, too.
---
Sep 04, 2016 - David Austin
Am diabetic with mild diabetic neuropathy in my feet. Never had any major problems because I take good care. Worst thing that's ever occured are blisters from hiking. Headed to Costa Rica shortly. Will be rain forest hiking for about 4 days about 6 to 7 hours a day. Weather will be humid, warm and possibly rainy. Hiking will not be strenuous but long and more leisurely. Any suggestions on best socks given what I've described? Wigwams? Others? Thank You.
---
Feb 14, 2017 - Toe Breaker
Count me in as another 2 sock wearer, thin synthetic sock liner and a heavier wool hiking sock. I have both the REI brand and the Red Wing boots brand of wool sock and can't choose a winner, I like both equally. On my rookie hike I never even got a hot-spot while other rookies had blisters as big as quarters.
---
May 20, 2017 - Sandra
I always wear bamboo socks - they are the besr. I can't wear wool or anything similar my feet burn.
---
Feb 08, 2018 - elan
Great site, very helpful. My favourite combination is the Injinji Trail toe sock inside a Bamboo Treads Bamboo sock. I've had the latter for 6 years, and they're only slightly flattened.
Bamboo's great for hot weather.
---
---
Ask a Question
---


Find more Hiking Resources at www.HikingDude.com
Follow Me