Navigating a Hike

Seriously, if you don't know how to read a topographic trail map and use a compass, then don't go hiking. Seriously. Having someone in your group that knows how to use them is not good enough. You'll get separated from him and then you'll be in big trouble.
You really should learn How to Use a Compass - its a good tutorial describing maps, compasses, declination, topography, and more.
Stay On Course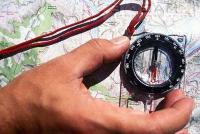 On many frontcountry hiking routes, such as state parks and nature centers, all you need is a simple trail map of the area. It's only a few miles on a well-traveled route so your chances of getting lost or injured are pretty slim. But, even there, a thunder storm, accident, or recent trail damage may force you to take a detour and lose the trail.
On backcountry treks, understanding a topo map will help you plan where the more difficult steep ascents are and where you will have nice views from high ridgelines or be stuck in a gully with no view but the trail ahead. By reading a topo map at home, you can visualize what the terrain looks like even before you ever see it. You'll know the name of a high mountain in the distance and more importantly know it is East from where you are hiking in case you become disoriented.
Your compass is the other half of the navigating toolset that you need to bring. In some areas with enough visual landmarks, you can do just fine with a map alone. A compass alone can keep you heading in a certain direction, but you don't know what you are heading towards. For all areas, a map and compass together can get you home along the safest of routes. Using your compass to orient yourself and your map and then identifying objects on the map in your real world will keep you going the right direction.
Global Positioning Systems are very common now. Unfortunately, some people think they are magical devices that keep people from getting lost - Nope! They are useful tools, but you still need to know how to use your specific model and you need a trail map. And, if they run out of batteries, get wet, or break, then it would be a good idea to have a compass as a back-up.
Ask Me
about Hiking Navigation!
Or, read more about:

Getting Found

Signaling for Help


Find more Hiking Resources at www.HikingDude.com
Follow Me