Trail Food Post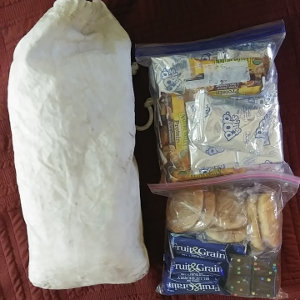 On the Pacific Northwest Trail this summer, I tried some different foods - some good, some not. Here's a few tidbits that might make your next trek more successful...
We did no cooking. This meant there was no stove, cook kit, fuel, or cleaning items to carry. Eating was much faster and easier and we could eat whenever wherever we wanted. This simplicity was a much bigger benefit to us than the cost of having no hot food. And, with the severe fire season, it was good to not have fire of any kind.
I historically have eaten a lot of chocolatey food on trail. At the start of this trek, chocolate just did not sound good to me so I wasn't eating enough. At our first resupply, I picked up some alternatives and here are some that worked great for me:

Tart and sour chewy candies were a huge hit! A bag of Sourpatch Kids was always in my sidepocket and we would each eat a few at most rest breaks. Again, that fruity, citrus taste was what I craved this trip.


Jerky - I very seldom take jerky along but it tasted good this time around.

Little Debbie - We ate waaaaay too many Little Debbie desserts but I'm now quite an expert. Their cakes, muffins, and doughnuts squish too much, so don't take them. The brownies are dense and perfect for packing. The peanut cluster cookies are great, but the oatmeal cookies fall apart. Honey buns squish flat but taste good. Nutty Buddy bars are awesome! My favorite was the Cosmic Brownies and I still long for them off trail. :-)

Peanut Butter and Jelly - mixed in a plastic jar, this saved weight and the fruity jelly taste was just what I wanted.


Fig Bars - Newtons are very expensive but off brands taste just as good. They are dense and once again have a fruit rather than chocolate flavor.
Spicey Trail Mix - This was new to me. I found an off brand hot trail mix that was hot rather than sweet. I loved it!
Summer Sausage - As a change from tuna, we split a small sausage on tortillas. They are heavy but have a lot of calories and packed just fine for days on end.
Tortillas - In the past, I've used ritz-style crackers because they have a lot more calories per ounce than tortillas. But, tortillas pack a lot better, hold food better, and taste good.
If you have an ALDI store near you, or find one along the trail, I've found they are a perfect place to find backpacking food. Much of it is inexpensive and calorie-dense. Wal-mart is the next best place for this type of food.
To figure out how much food you need for a long trek,
I've got a
food needs calculator
that comes pretty close.
Hike On
Posted: 7:54 10-19-2017 1441


Find more Hiking Resources at www.HikingDude.com
Follow Me