Hiking Dude Blog
Archives:
2023
2022
2021
2020
2019
2018 -
Oct
Sep
Jul
Jun
May
Apr
2017
2016
2015
2014
2013
2012
2011
04/29/2018
PNT Talks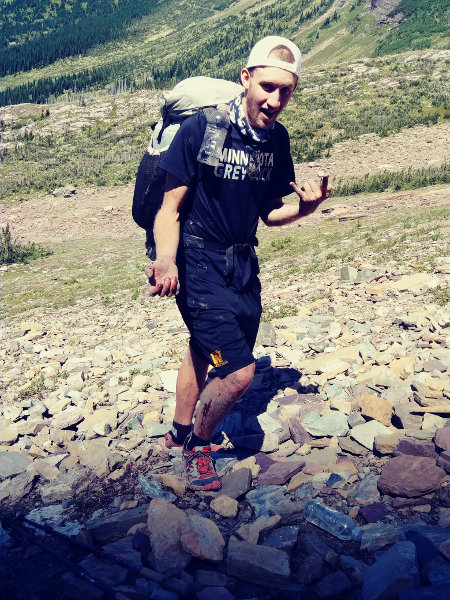 Yesterday, we had a fun time talking about our PNT thru-hike to a standing room only crowd of about 70+ folks at the Midwest Mountaineering Expo. It was entertaining to remember and joke about things that happened along the trail.
One of the things that continues to pop into my mind often is the first day in Glacier when Josh fell off the trail. It makes for a great story now, but was about the scariest moment I can recall from all my miles on trail so far.
Traversing a steep snowfield, he slipped and slid for more than 50 feet to the rocks at the bottom. From my view above him, I only saw a cloud of ice crystals as he tried to dig in with his feet and hiking pole handles to slow down. Pretty helpless feeling, just standing there and watching him hurtle towards the end of the snow where it turned to rock.
When he hit the rocks at the bottom, the cloud of ice turned into a cloud of dust. I've hit rocks at the bottom of a glissade before, and it is very dangerous! Luckily, it was all smaller shale and not solid rocks and boulders so he skidded on it to a quick stop.
As you can see, he took a beating with lots of cuts on hands and legs, but nothing deep. I checked him out and all his joints and muscles still worked, and there was little bleeding, so we climbed back up to the trail past the snowfield.
A few weeks later, all the cuts were healed and scarred (which he still has) and they are a reminder of how a split-second can change a fun time into an emergency. Even being trained, cautious, and aware, accidents can still happen so you should have some wilderness first aid skills before going into the wilds.
Oh yeah, we're presenting about our PNT hike this Wednesday at our home church so that should be fun to see what our friends ask us about. :-)
Hike On
---
04/02/2018
Outdoor Expo Talk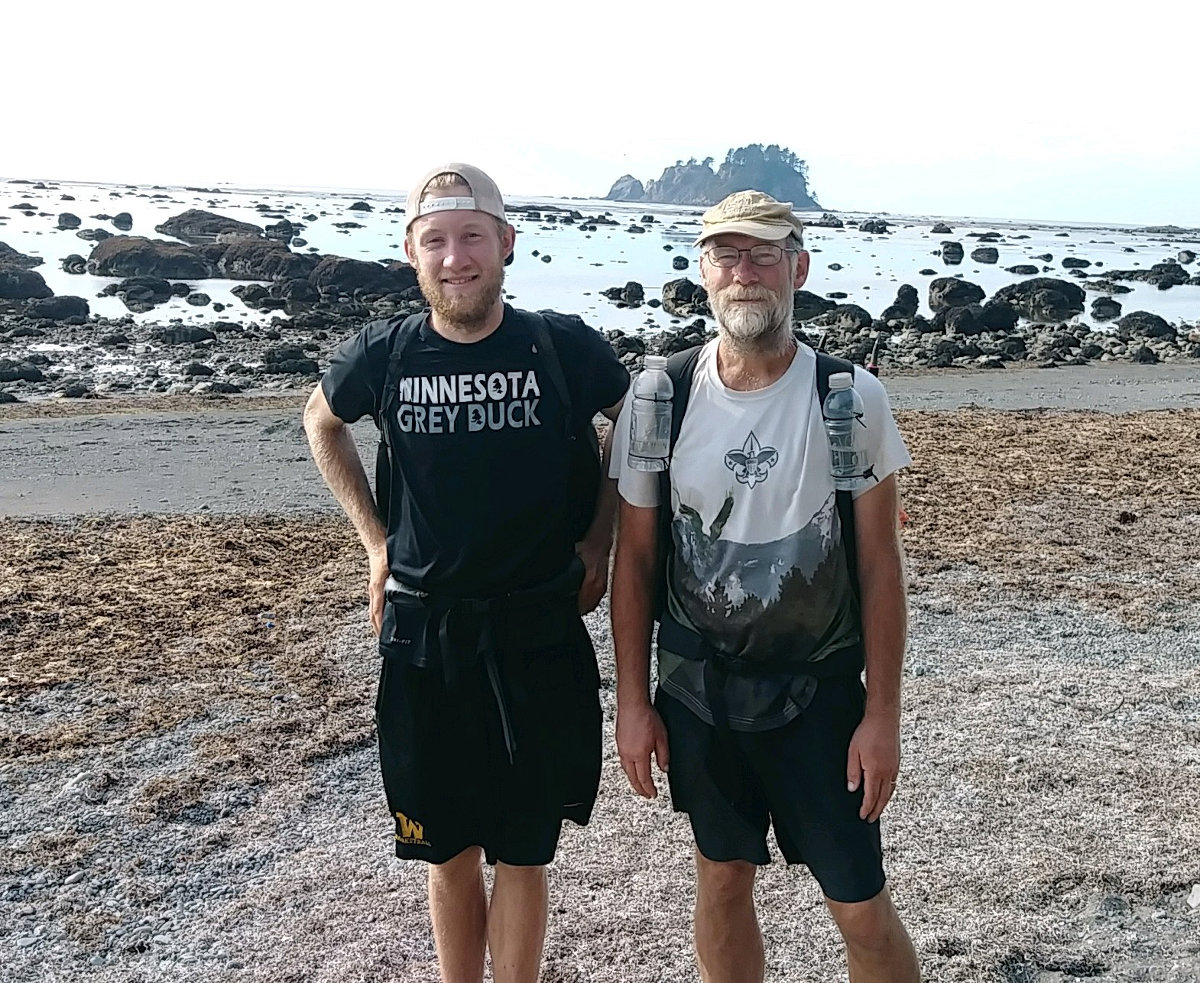 Josh and I will be presenting about our Pacific Northwest Trail hike at the upcoming Spring Outdoor Expo in Minneapolis, MN on April 28 at 11:45am.
See details
HERE
.
There are lots of other interesting talks to attend at the Expo. If you're in the area, it's a great way to spend the day.
Hike On
---
Older Posts
Newer Posts
Site Disclosure Statement
---
All Comments:
Feb 13, 2020 - Jason Berklund
Hey hiking dude I have several questions planning my first north to south trip from 270 all the way down. I kind a know what to wear what to eat all that important jive. I am in relatively good shape definitely Not concerned about where in tear. 45 years old going with a 21-year-old nephew. My question is I have friends in Duluth that I don't want to burden with driving me what's the best way to get up to otter Lake Road that's not gonna cost a crap ton. We were thinking 15 miles a day. We were also thinking hammocks. Let me know what you think please. I have read so much and look at so much and heard so many opinions but You seem to be very realistic on your comments. Thank you
---
Feb 13, 2020 - Hiking Dude
@Jason - Hammocks work fine - most campsites have lots of trees. 15MPD is realistic, and you'll probably do more than that many days.
Getting to the northern terminus is expensive (in my mind). If you can schedule correctly,
Arrowhead Transit
is cheapest to Grand Marais, but then
Harriet Quarles
is the only shuttle I know of. You might find a good ol' boy in Grand Marais willing to drive you the 35 miles to the end for a few $$$.
It's a 3 hour drive from Duluth - that's 6 hours and 300 miles round-trip. Maybe your friend would like to drive up the north shore for a day.
---
---
Ask a Question
---


Find more Hiking Resources at www.HikingDude.com
Follow Me